Thinking of purchasing BunnyCDN and looking for BunnyCDN coupon codes? If yes, then this article is for you. Below, I have shared an exclusive Bunny CDN promo code that offers you an amazing discount so that you can enjoy the benefits of BunnyCDN while taking care of your billfolds.
To get the benefits of those latest Bunny CDN coupons, you need to go to their websites >> sign up for the account >> and apply the Bunny CDN coupon code on Bunny CDN's website billing page, and you will get the discount dedication. You can also click on the below link to get a discount and $5 in free credits when you sign up.
Get $5 Credits Using "TheWPX" Coupon
The BunnyCDN is a widely preferred next-generation content delivery network with edge storage and optimization services. I have a few websites integrated with this CDN, and when it comes to performance, I am fully satisfied with it. They offer lightning-fast performance at any scale. Here are the quick benefits of using BunnyCDN:
You can start with $1/month
They have advanced parma caching technology
Offer complete DDoS protection
You can monitor the statistics in real-time
For additional security, they also offer you free SSL.
Please read the article below carefully to learn about additional BunnyCDN discount codes, pricing, features, and my experience of using it for a few years.
TL; DR;
BunnyCDN is one of the leading CDN services providers with 114 global PoPs, 26 ms avg. global latency, 95% avg. cache hit ratio, the base of 1,000,000+ powered websites. You can supercharge your website by connecting it with this CDN.
Pros:
They have a global network span in more than 77 countries.
Powered with NVMe and SSD technology.
Easy-to-Use & competitive pricing.
Cons:
They do not provide 24/7 support.
What we like most about BunnyCDN is that you can also try it for free for 14 days. You will get a limit of 1000 GB in the free trial. You have to sign up, and you are done, even though there is no need to enter the credit card details for a trial.
About BunnyCDN
BunnyCDN is one of the most used CDN among professional web designers, bloggers, corporate companies, and more. The reason behind the popularity of BunnyCDN is its speed, performance, and security features. They have partnered with tier 1 data centers which are carefully selected and have about 80 tbps+ global network backbone. You will not find such CDN configurations with any other CDN providers in the market.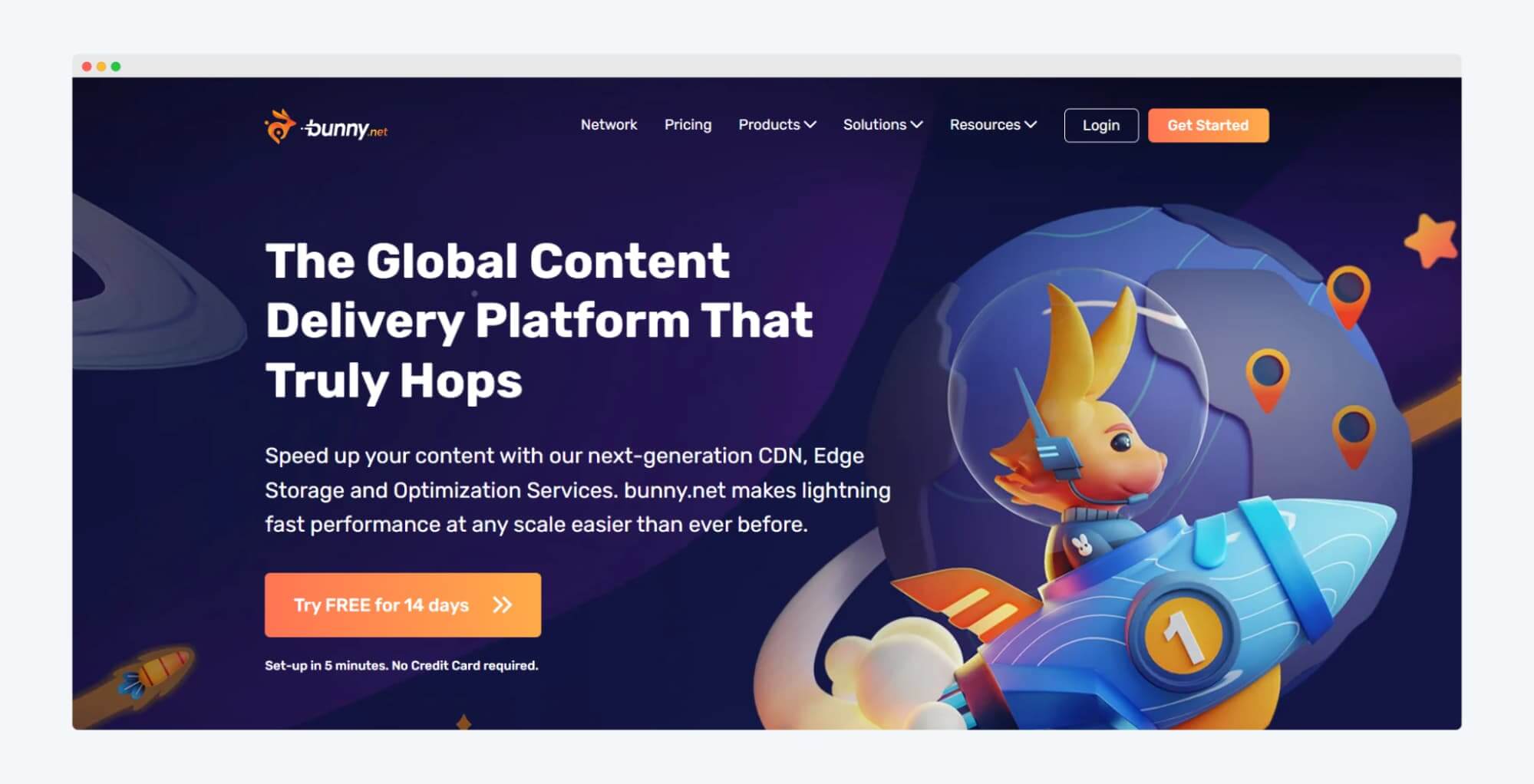 Another notable feature BunnyCDN offers is SmartEdge routing, which means their routing engine works according to the content types on your website, and it makes video delivery fast if you have videos on your website.
If you run a bulky website with tons of images and other types of media files on it, then this CDN is ideal CDN for you as compared to any other CDN in the market because I have personally checked and got to know that the average global latency of BunnyCDN is less then 40 ms in the almost all the parts of the globe.
Here are a few things Related to BunnyCDN that make BunnyCDN an excellent choice for all types of websites:
More than 1,000,000+ websites are already using this CDN.
They offer more security thanks to built-in next-generation DDoS protection.
BunnyCDN is one of the most affordable CDN available in the market.
Their servers are powered purely by NVMe, and offer less than 30-millisecond latency when serving.
And offers a wide range of features…
How to Get BunnyCDN Free Credits Using Our BunnyCDN Promo Code?
It is straightforward to get BunnyCDN free credit using the BunnyCDN promo code. Follow the below instructions carefully to be done with it:
First, create an account on the BunnyCDN website; click here to signup. You need to enter your email address and set a new password on the signup form. You can also signup using Google Account, GitLab Account, and Okta Account.
Accept the terms of service & acceptable use policy and click the 'Create Account' button.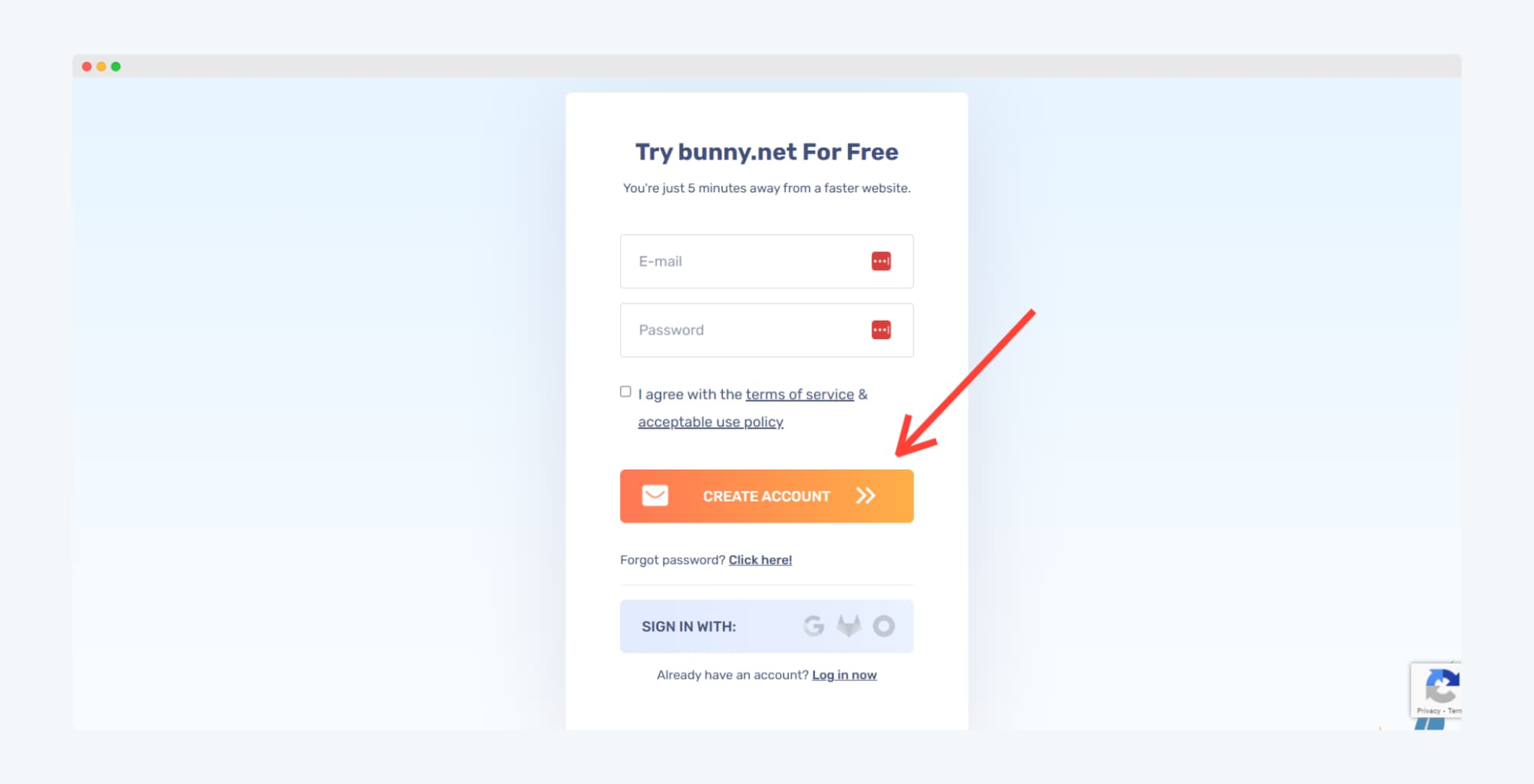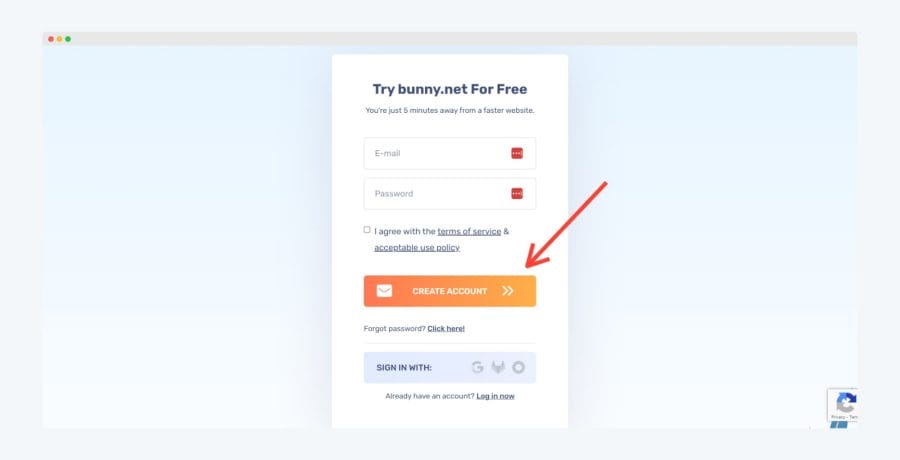 You will be redirected to the BunnyCDN dashboard, and your free trial of 14 days will be activated with the completion of the sign-up process. You can now use BunnyCDN for free with all its features for 14 days, and then you need to choose the plan according to your requirement and make the payment.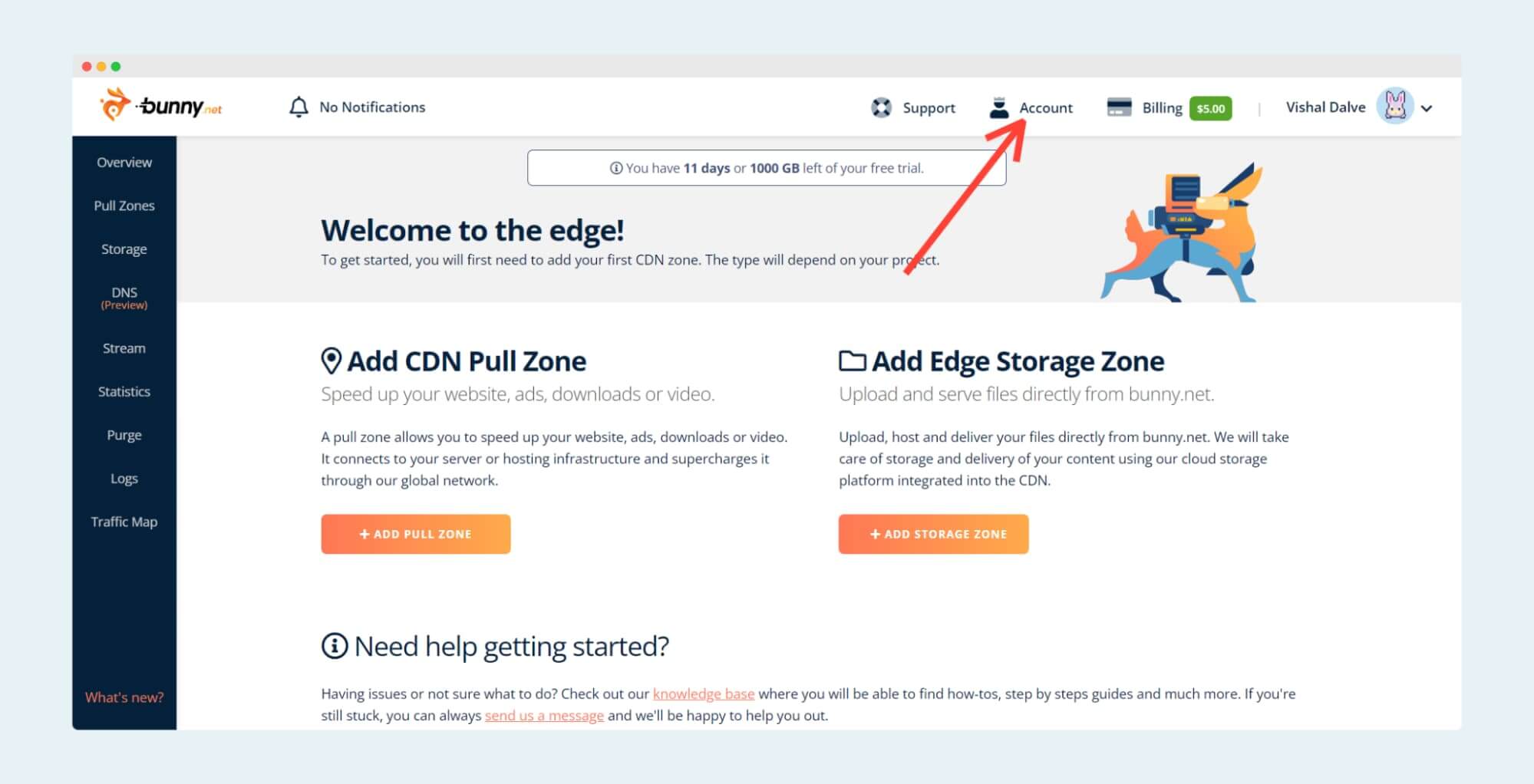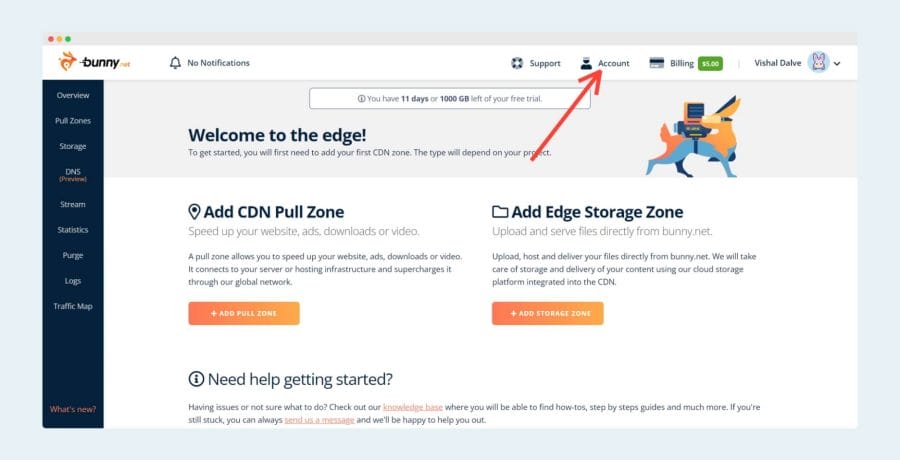 Now you will see the option 'Account' on the top menu; open it. And on the account page, you will see the option 'Update Account Details,' click on it and update the account details.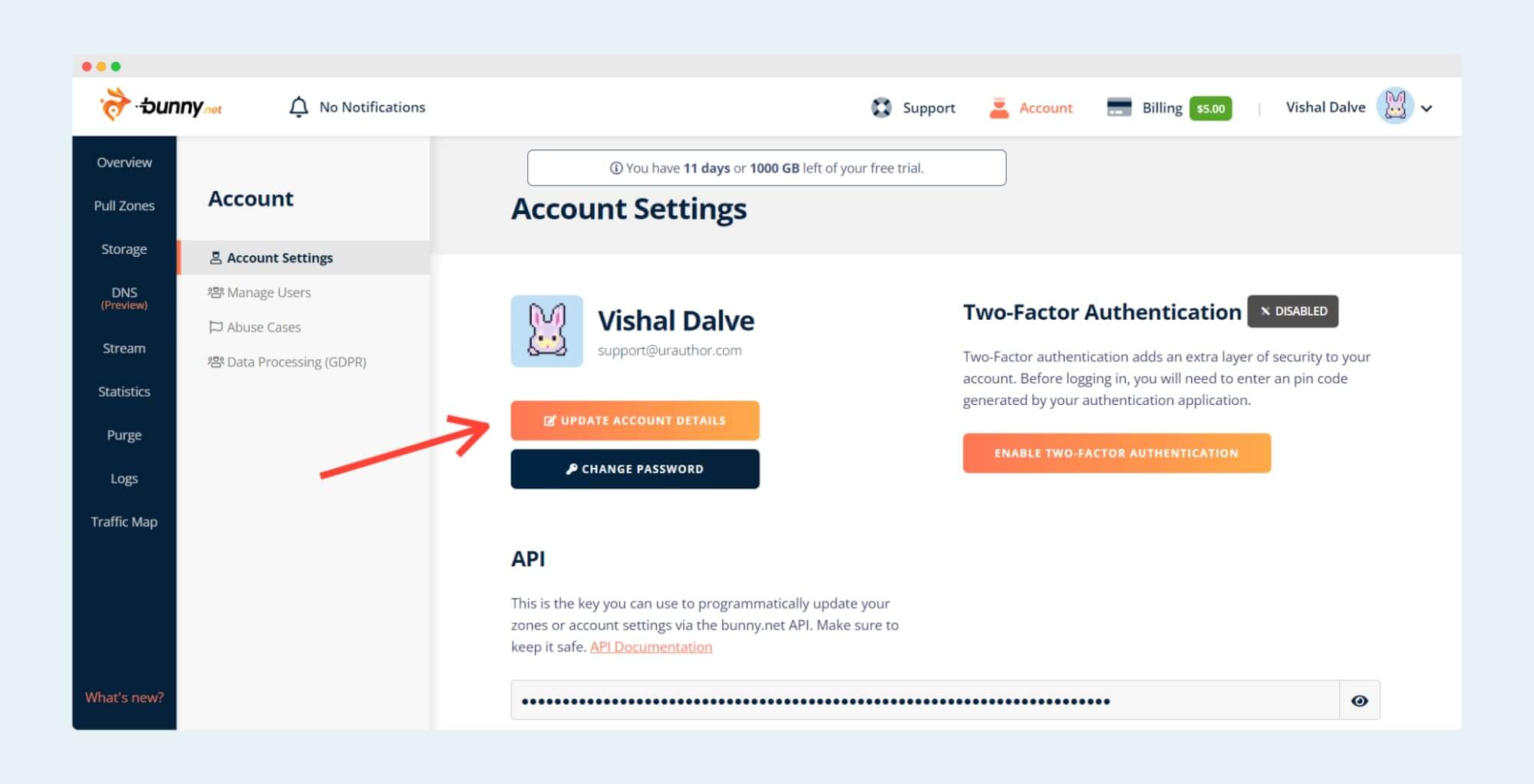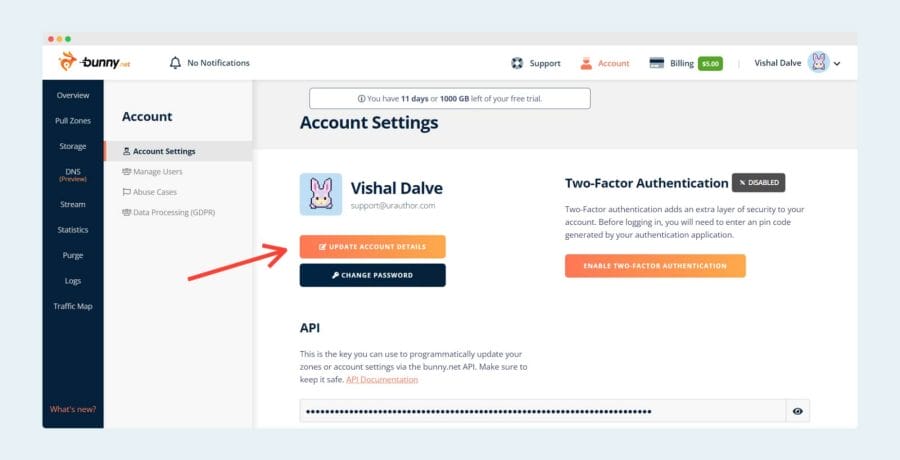 The below details are required:
First Name
Last Name
Email
Billing Email
Street Address
City
Zip Code
Country
Company Name
Once you enter all the details, click the 'Update Account Details' button. You also need to verify your email address by clicking on the link in the email to unlock your account.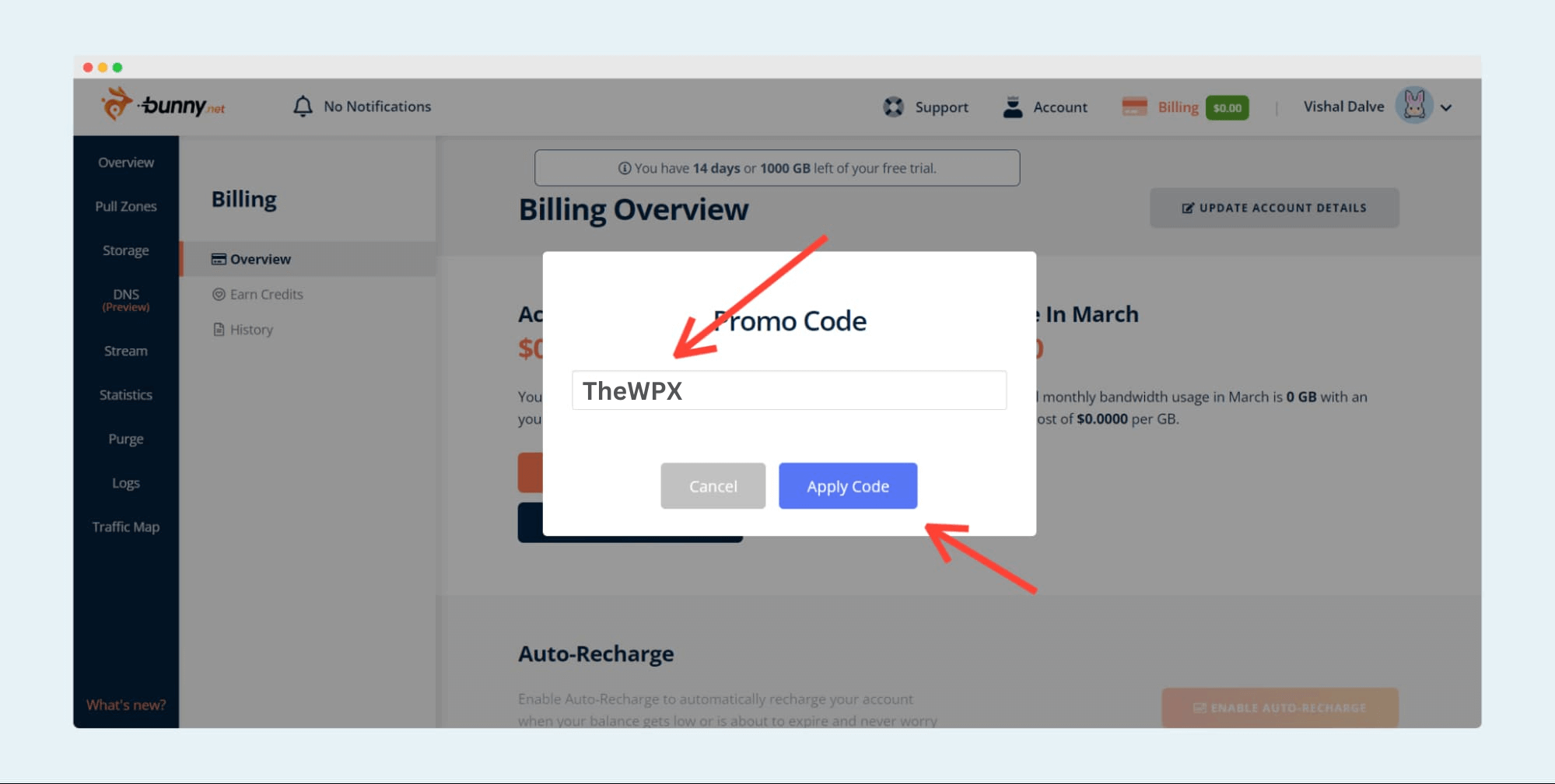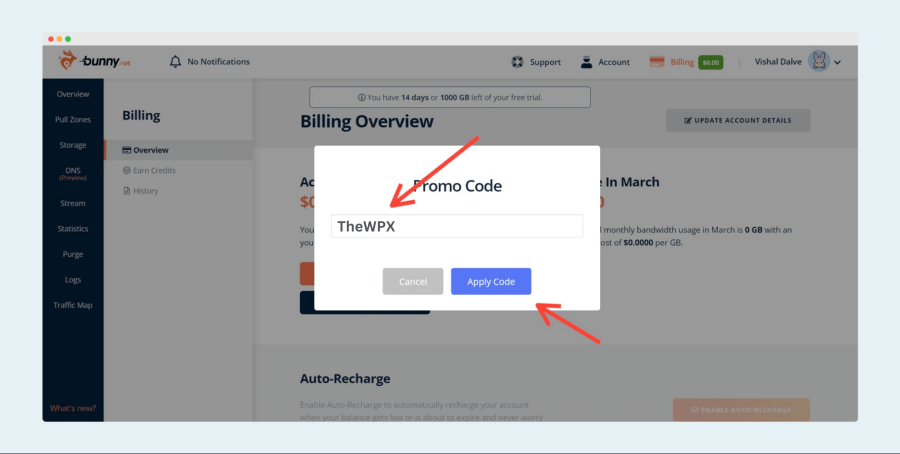 Now go to the 'Billing' option from the top menu, and enter the coupon code on this page; you will get the option to add a BunnyCDN coupon code; click on the 'Enter Promo Code' button. Enter our BunnyCDN promo code 'TheWPX' and click on the 'Apply Code' button.
The BunnyCDN coupon code allows you to get $5 free credit in your account.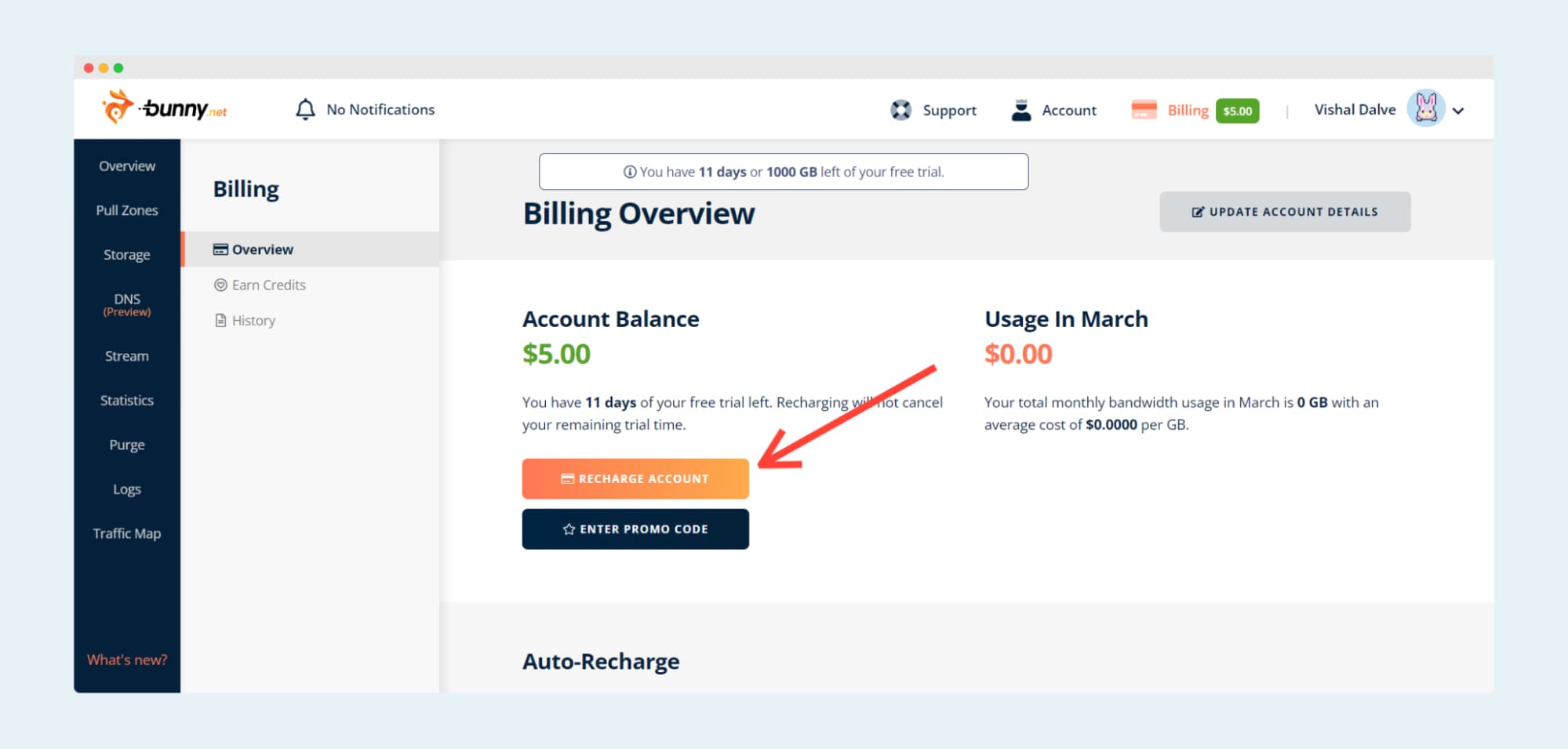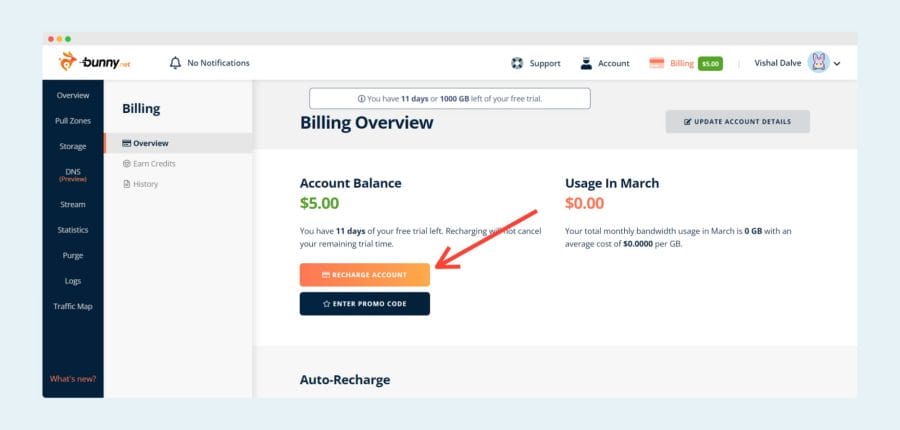 This is how you can get $5 free credit in your BunnyCDN account using our exclusive promo code.
How BunnyCDN Will Boost Your Website Speed?
If you have any questions regarding the working of BunnyCDN, you will get the answer to it in this section of the article.
Not just the BunnyCDN; all the CDNs do their work in the same way. They act as the middleman between the user's browser and the website server.
Let's understand it's working: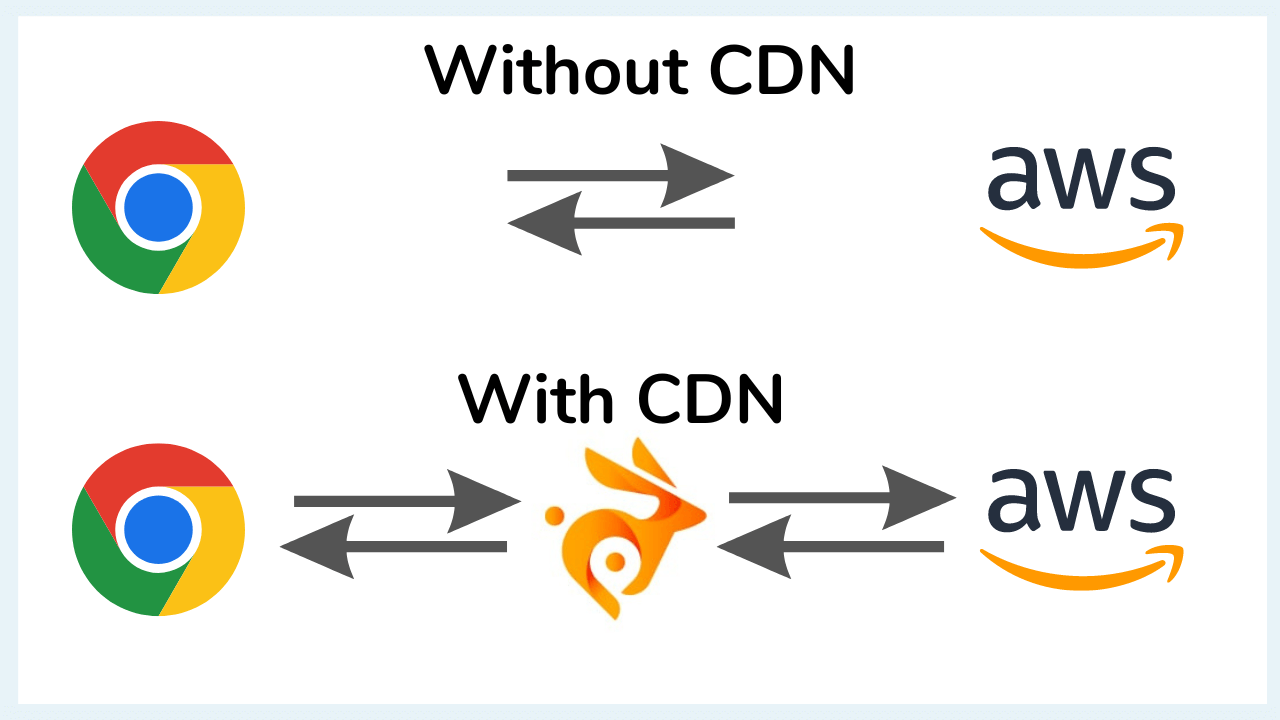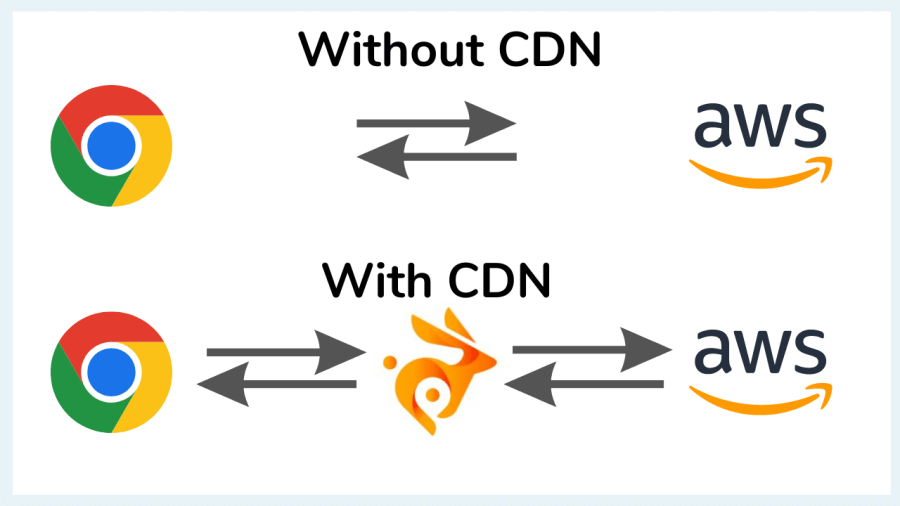 Suppose you have the website hosted on a web hosting server in the USA. When users try to open your website, their web browser first sends the request to the DNS server and takes the information about the domain's IP address from there.
Once the user's browsers get the web server IP address, they send a request to the web server in the USA to send the data for the URL opened by the user. And when the web server in the USA sends the data to the web browser, the user's requested URL will open.
Now in the above situation, you may have noticed when anyone tries to open your URL, the browsers need to send the request to the web server in the USA every time.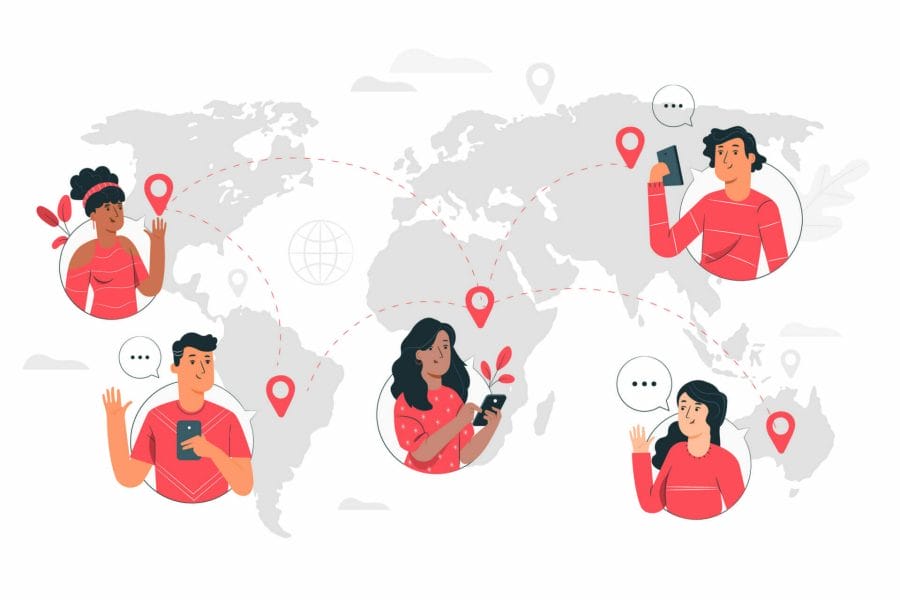 Even if the user is in India, their browser needs to take the file from the USA web server and load it in front of the users in India. This process takes only a few seconds but the second counts in the internet world. If your websites have media files on the webpage, it can take up to 4 to 5 seconds to load.
That's where the CDNs like BunnyCDN come in place.
When you integrate CDN with your website, as I have already told you, they act as the middleman between users' browsers and servers. After integrating the CDN with your website, when anyone tries to open it, the web browsers will not directly send a request for the required files to the web server.
The web browser sends a request to the nearby CDN server, and the CDN server will directly provide all the files they have cached to the browser. Meanwhile, the CDN server also requests the other files from the server and gives them to the browser. Another good thing about using CDN is that it will save your website's bandwidth.
CDN providers like BunnyCDN have servers in different regions, even a few servers in a single country. So browsers get files faster to load from the nearby CDN server than requesting files from the web server in the USA.
After integrating the CDN, your website's loading speed will increase.
The BunnyCDN is not just limited to the website speed and global network of servers, but it also provides additional safety to your website, which makes it the perfect choice for businesses of all sizes.
Almost all the CDN, including the BunnyCDN, provides a free SSL certificate with all their plans and also provide complete DDoS protection with a lightning-fast content delivery network.
Why Should You Choose BunnyCDN Over Any Other Bunny CDN Competitor?
Choosing a BunnyCDN offers you lots of benefits. Below I have explained a few cool features of BunnyCDN. Read the below information carefully to know why you should choose BunnyCDN over any other CDN in the market.
1. Amazing Performance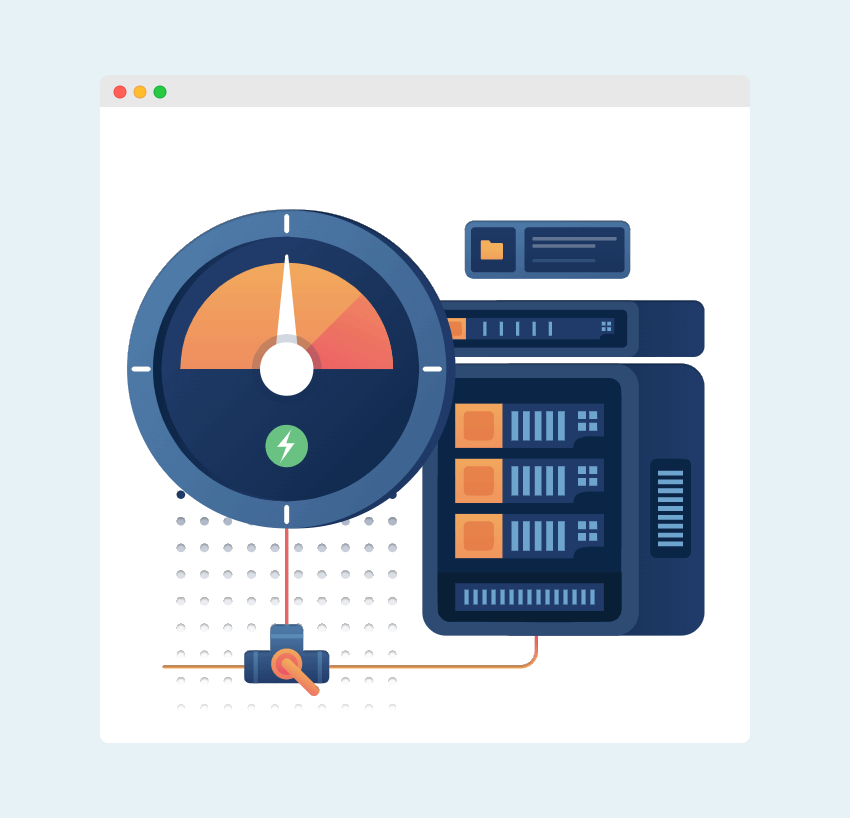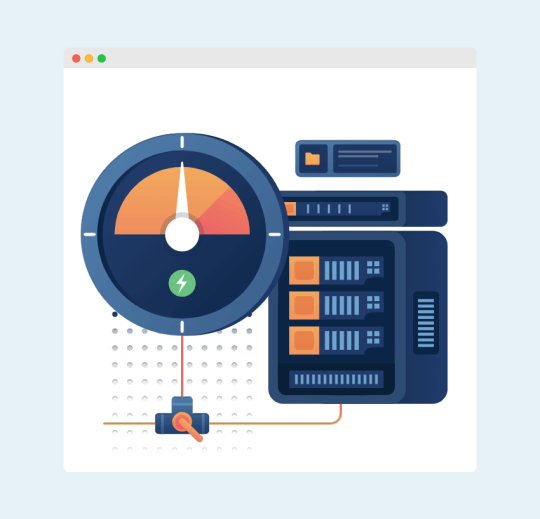 When it comes to the performance of your website, you can choose the BunnyCDN with closed eyes. This CDN is integrated with features like efficient global caching and content optimization.
Rather than that, there are a few more features like edge rules, request coalescing, customizable caching, image optimization, bunny optimizer, and perma-cache to help you boost your website's or web application's performance.
2. Very Strong & High-Speed Network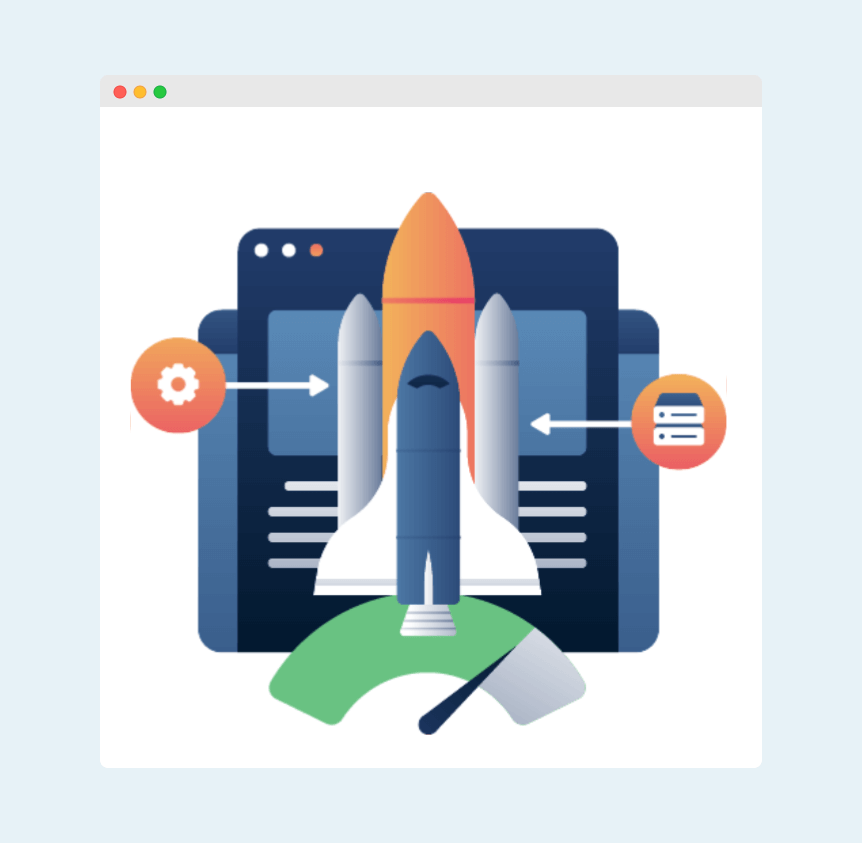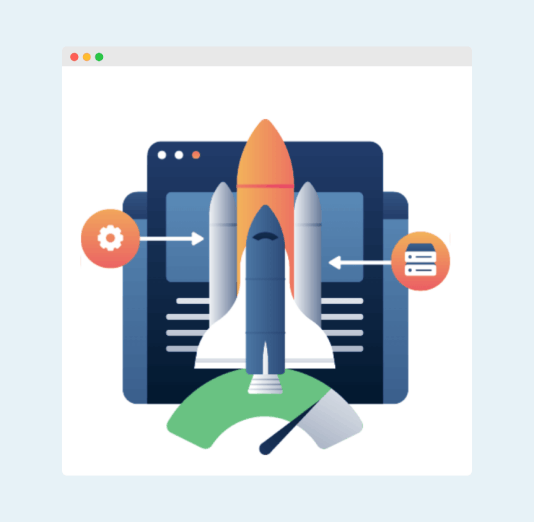 According to my testing, BunnyCDN is a reliable choice due to its global network; they have one of the fastest networking in the world, which will enhance your content delivery; it will make sure get content is delivered quickly and never be left waiting for your users. Thanks to their real-time monitoring system, you can even monitor your website's performance in real time.
BunnyCDN is also equipped with advanced technology such as a SmartHop engine, automatic healing, 3000+ PNIs, distributed network of proxy servers, and more…
3. Advanced Security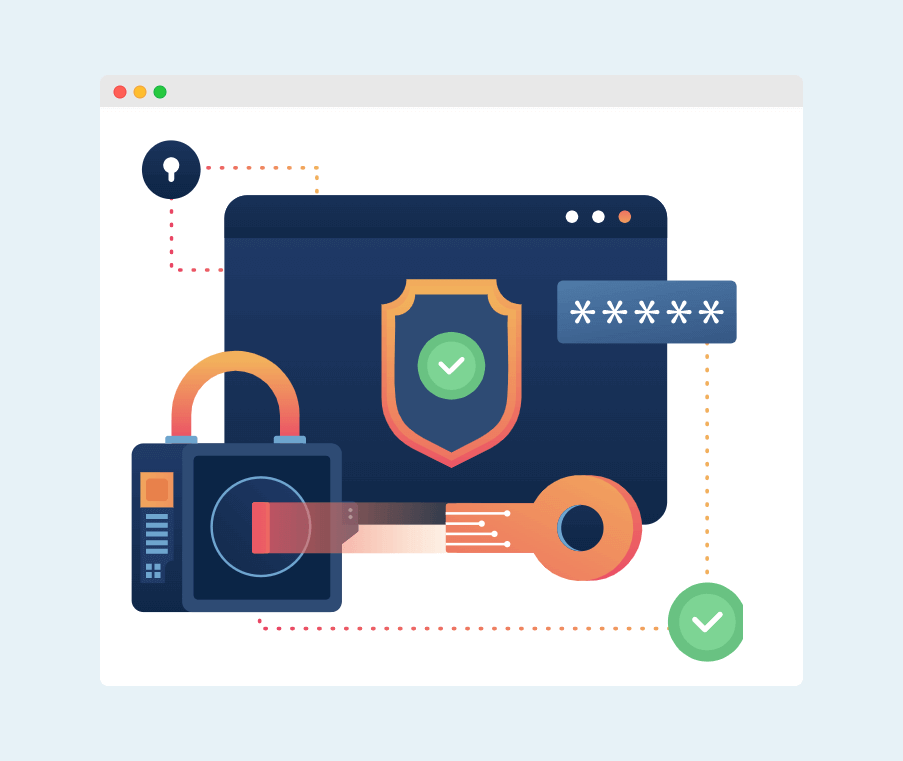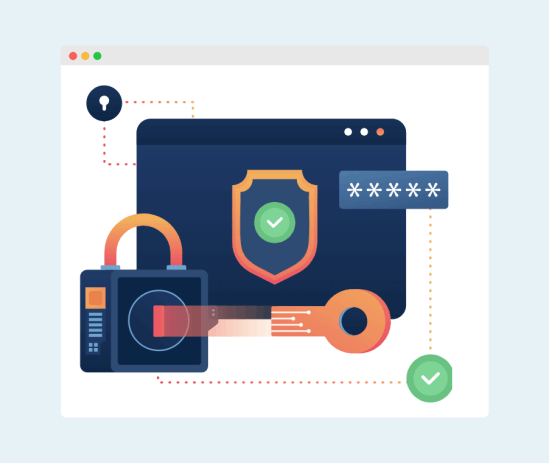 When you integrate BunnyCDN with your website, it will take your website security to the next level. They block hacking attacks before they reach your central web server.
It comes with advanced security features like GEO blocking, network limits, token authentication, DDoS protection, hotlinking protection, and more.
Above, I have discussed only a few features; BunnyCDN is integrated with tons of features and advanced security options. Click on the link shared below to try BunnyCDN for free and to learn about the latest Bunny CDN offers.
How Much Does Bunny CDN Cost?
When it comes to BunnyCDN pricing plans, it is the most affordable CDN available in the market. They offer 2 different plans:
Standard Network
Volume Network
Below I have shared the details you need to know:
1. Standard Network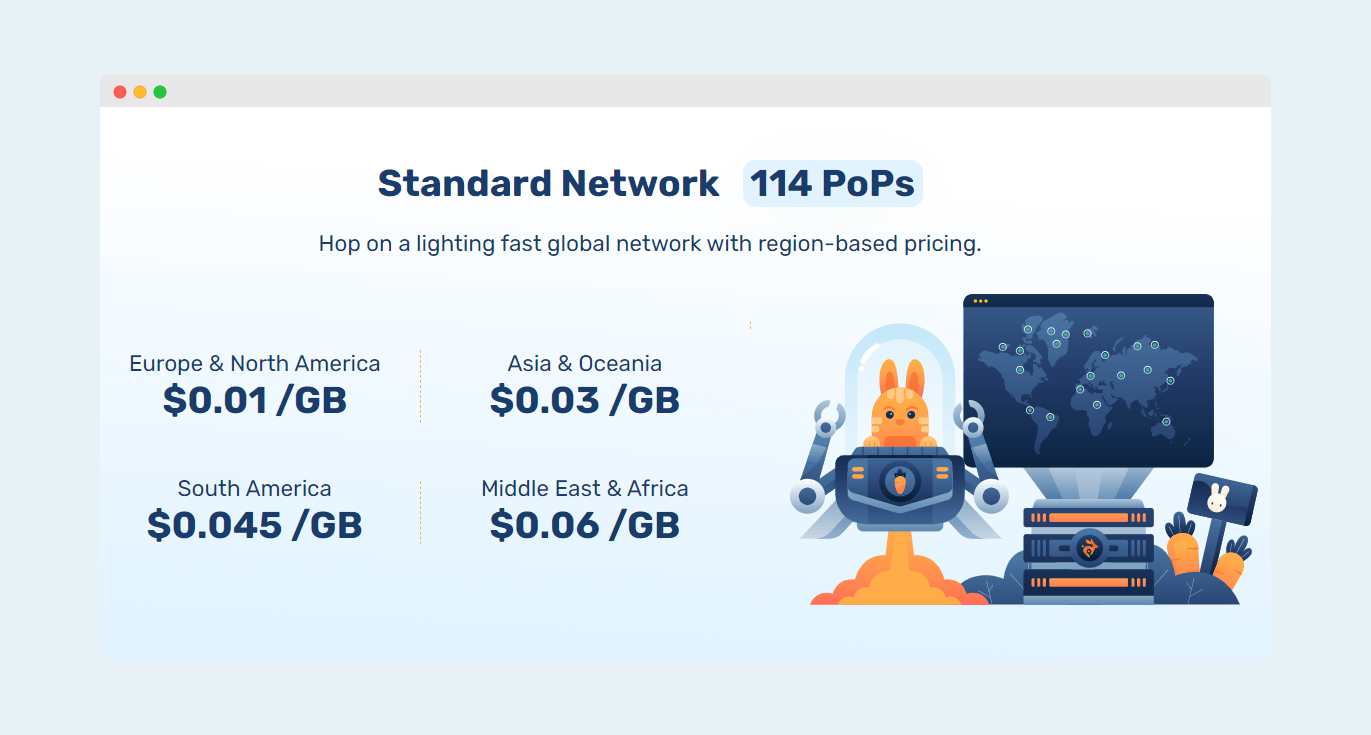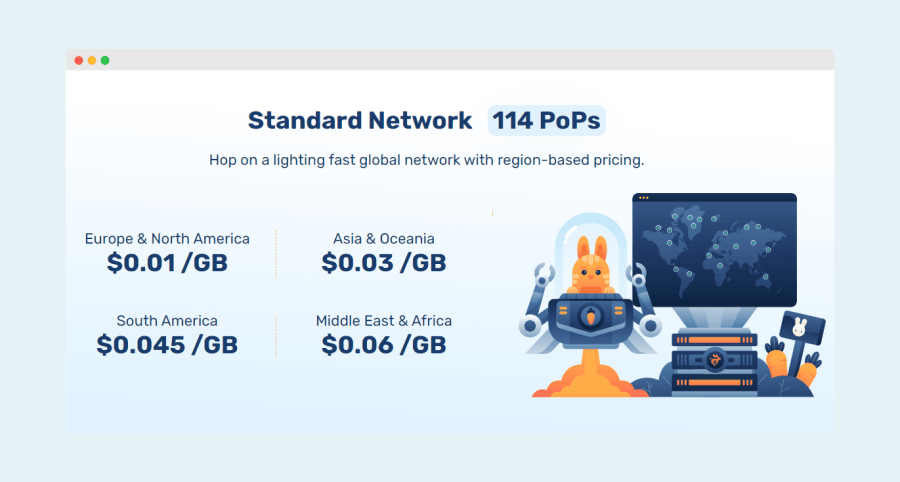 This plan is best for you if you are running a small or medium website. Investing in this BunnyCDN plan can boost your website performance at a low investment. Here are the pricing details according to the regions:
| | |
| --- | --- |
| Region | Pricing |
| Europe & North America | $0.01 /GB |
| Asia & Oceania | $0.03 /GB |
| South America | $0.045 /GB |
| Middle East & Africa | $0.06 /GB |
2. Volume Network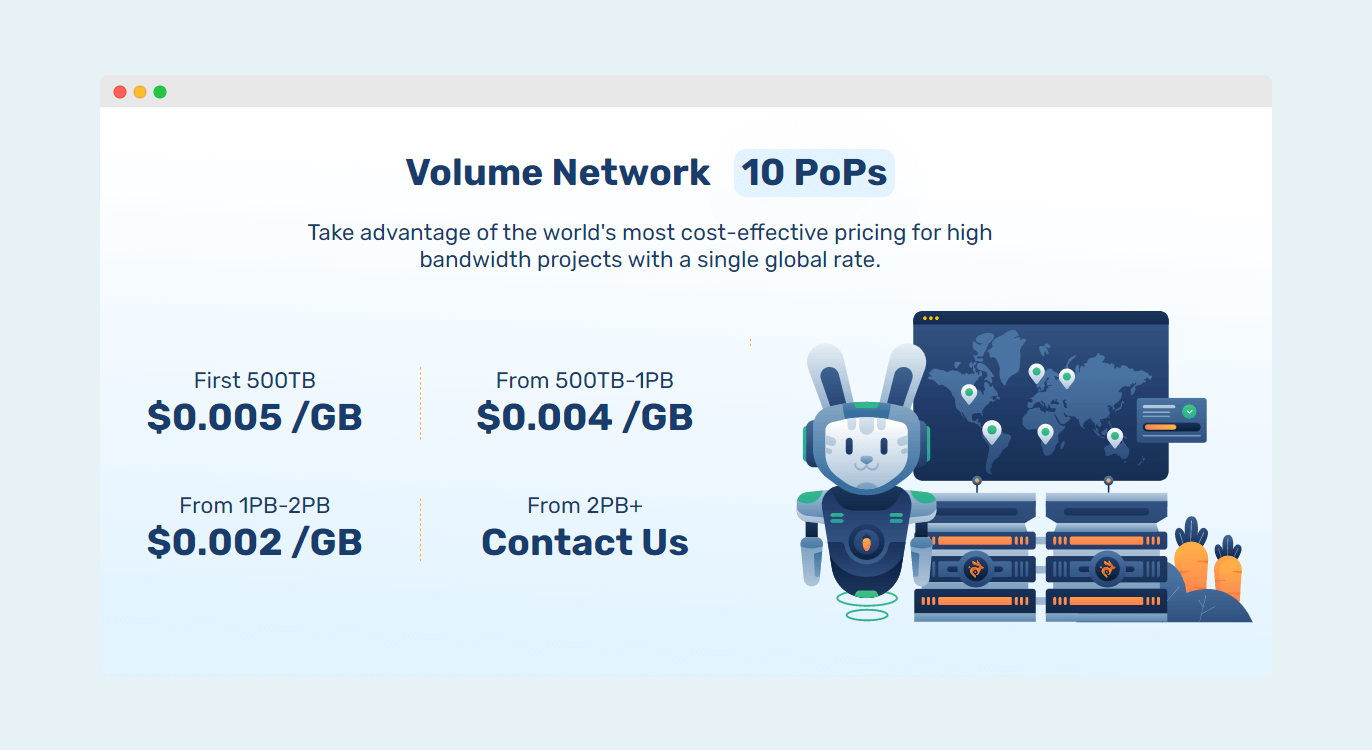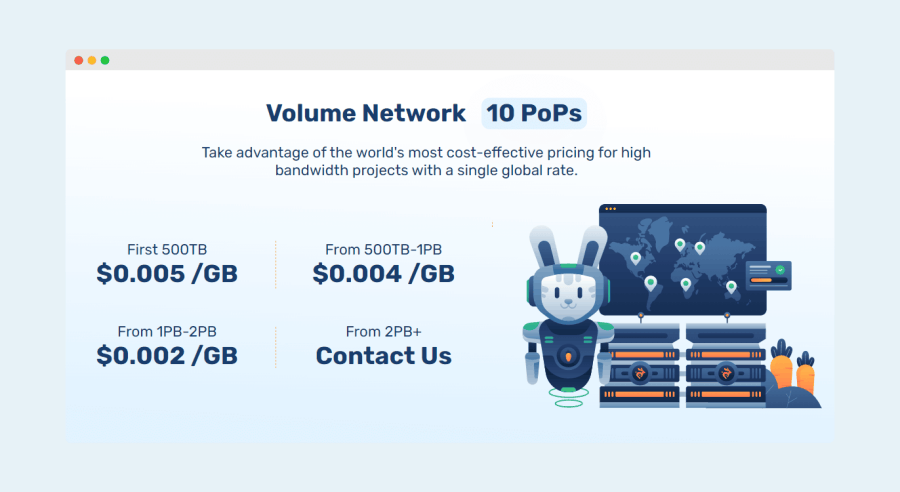 If you are running a big, bulky website with many pages and media files, then this plan is good for you. Here are the pricing details according to the regions:
| | |
| --- | --- |
| Region | Pricing |
| First 500TB | $0.005 /GB |
| From 500TB-1PB | $0.004 /GB |
| From 1PB-2PB | $0.003 /GB |
When you use my best Bunny CDN discount code, 'TheWPX,' you will receive some additional discount and $5 free credit. You can use any debit or credit card to get a premium plan of Bunny CDN.
Wrapping Up!
By following the above process, you can get a discount while purchasing BunnyCDN, and you will also get 5$ free credit in your BunnyCDN account using our (Code – 'TheWPX') reseller codes or promo codes.
As I already told you, you would get 14 days of the free trial. In this trial period, you can test BunnyCDN at its full potential and then purchase according to your needs.
I hope this article about the BunnyCDN promo code is helpful to you. If you have questions regarding the Bunny CDN coupons and discount codes, ask me in the comment section below.