Excel is an incredibly powerful tool for both personal and professional use. It makes streamlining tasks and organizing your data easier than ever before, but mastering the art of remembering all the various formulas can be a time-consuming struggle. If this sounds familiar, don't worry – you're not alone. I certainly had my struggles when I first started using Excel, and I know many others do as well.
That's why I'm so excited to tell you about Sheeter.ai – a revolutionary AI-powered spreadsheet assistant that makes Excel formula struggles a thing of the past. With Sheeter.ai, you can generate formulas based on your query in seconds. You can then modify the formulas if needed, and get precise results with just a few clicks of the mouse.
💡 I started using Sheeter.ai in 2023; my workflows have become much simpler and more efficient. It has literally changed how I use Excel and given me total control over my spreadsheets.
And in this guide, I'll take an in-depth look at Sheeter.ai and show you why it's such a must-have tool for Excel users. So, say goodbye to the days of manually typing in formulas and struggling with Excel – Sheeter.ai will help you get the job done quickly and easily!
Ready? Let's dive in and discover what Sheeter
Sheeter.ai – Introduction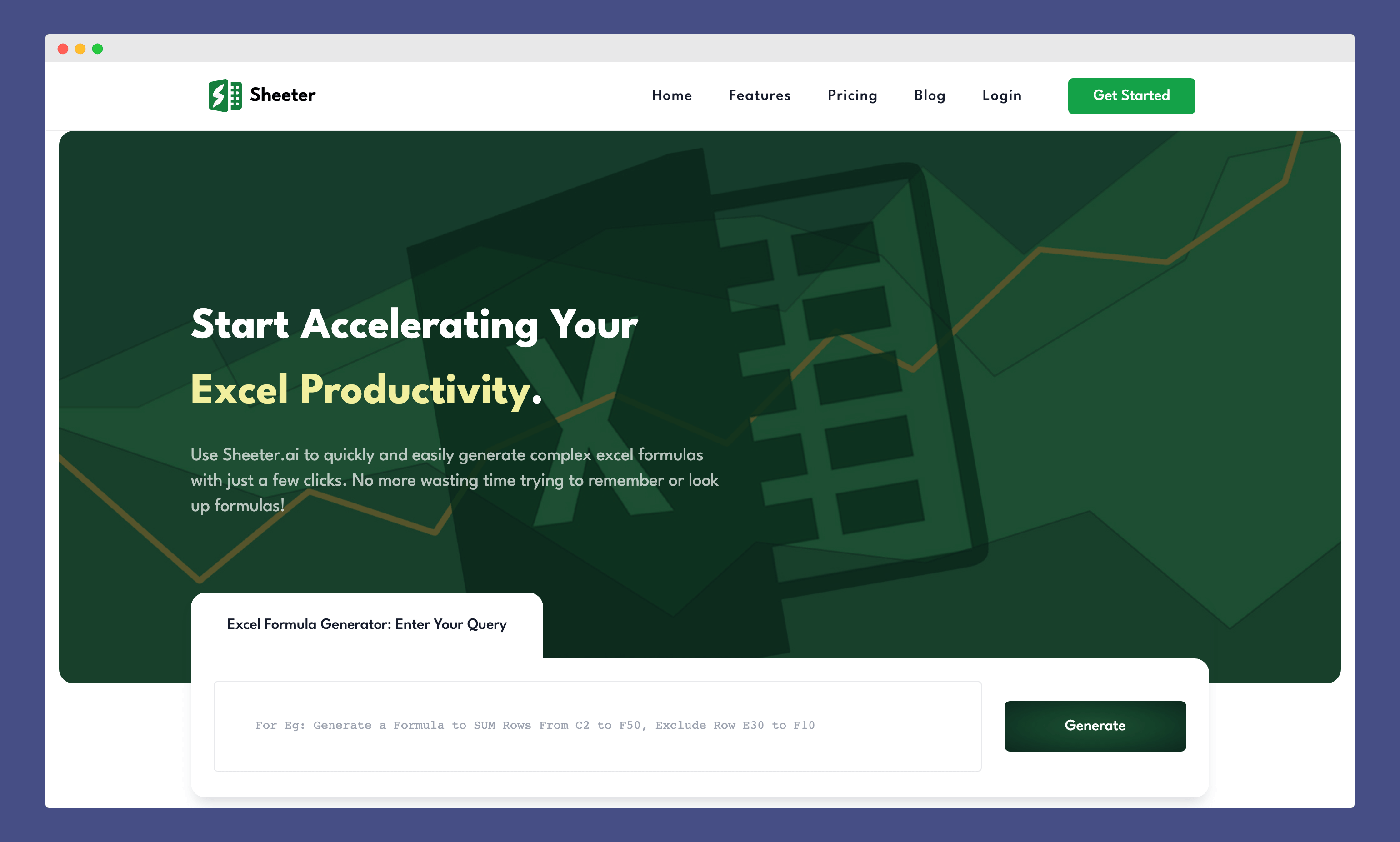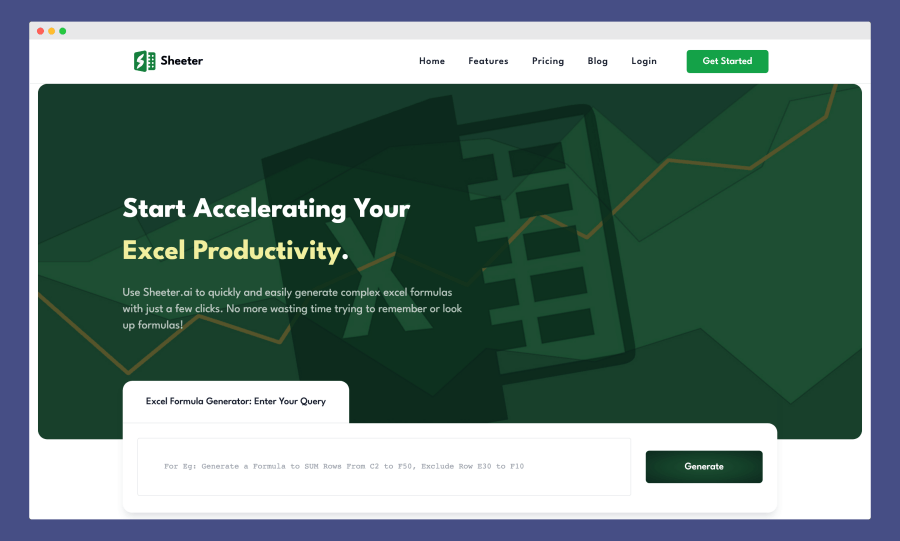 Developed by a team of two automation gurus, Sheeter.ai is a truly remarkable excel formula generator that transforms the way you work on your spreadsheets. With its advanced AI-powered algorithms, it is capable of doing everything possible to accomplish your work. All you need to do is enter your query, and it will generate a possible formula, VBA script, RegEx, App Script code, or even a SQL formula for you!
And not only Sheeter.ai saves you, but it also helps ensure the accuracy and consistency of your spreadsheets. It's incredibly easy to use; I've been able to generate formulas for anything from basic arithmetic functions to complex statistical analysis with just a few clicks of the mouse.
Here are the key features of using Sheeter.ai;
Save your time: Gone are the days of searching for the correct Excel formula or memorizing complex functions. Sheeter.ai delivers the ideal formula within seconds, allowing you to focus on the important aspects of your work.
User-friendly interface: Sheeter.ai's intuitive design makes it accessible to users of all skill levels. Whether you're an Excel novice or a seasoned expert, you'll be able to harness the platform's full potential effortlessly.
Custom functions: Apart from generating standard Excel or Google Sheets formulas, Sheeter.ai also supports the creation of custom functions (VBAs and App Scripts), giving you the flexibility to develop unique solutions for your specific needs.
Integrations (Beta): Sheeter.ai integrates with popular tools like Excel and Google Sheets for seamless operation. You can also use it with third-party services like Zapier, allowing you to sync data across multiple applications.
…and many more!
How Sheeter.ai Helped Me Overcome My Excel Struggles
I'm quite a disorganized person – but when it comes to managing specific things, I always turn my back to Google Sheets and MS Excel for assistance.
And recently, when I was trying to create a Business P&L sheet on Google Sheets for my offline hotel business named Smokey Wheels, it felt like it would take ages for me to finalize them and automate all the things which are usually taken care by my partner.
Frustrating me, I was looking for ways to keep track of all the offline expenses and income, including and not just limited to RAW expenses, fixed costs like Salary, income through online and offline modes, etc (kind of a POS system – but a smaller one for my startup). And after not finding any appropriate way for doing so, I've had to go back to my old ways of working.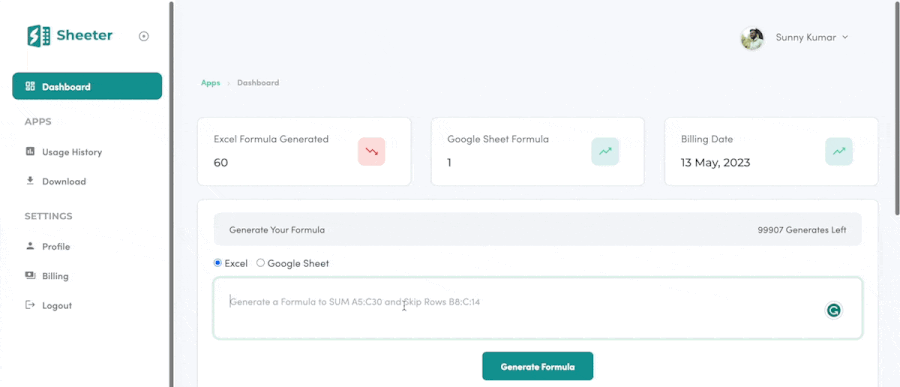 But being a blogger my research never ends; recently I came up with an Excel formula generator tool through Twitter, which completely revolutionized the way I'm looking at my sheet. And with its help, I've generated formulas that were impossible for me to do, and it has helped me work at, eliminating all my spreadsheet struggles!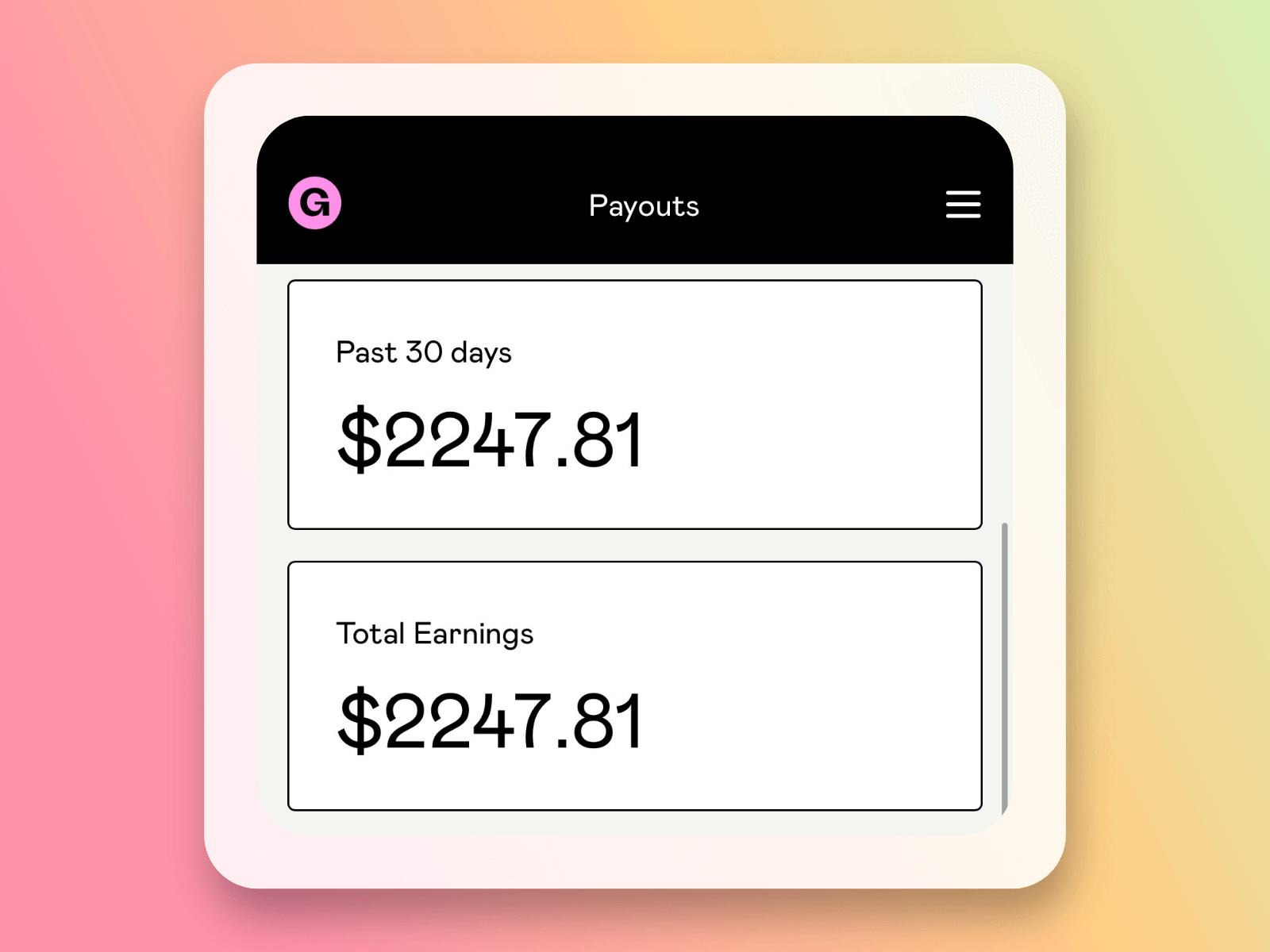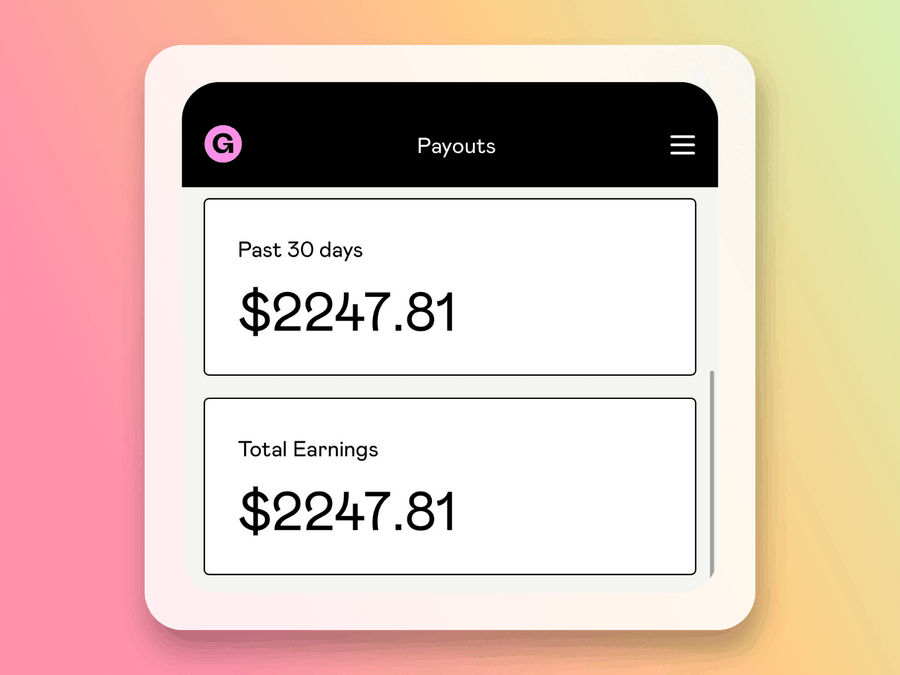 It has made working with Excel & Google Sheets so much more enjoyable and allowed me to complete the Sheets I had abandoned so long ago. From that time onwards, I've started using this tool for all my needs, including for both online and offline businesses. And it has helped me create a powerful Backlink Monitoring tool in Google Sheets, for which I've sold more than 100+ copies.
Features of Sheeter.ai
Are you still skeptical about why I like Sheeter.ai? Let me share some impressive features that will definitely convert you into a fan of this powerful tool.
1. Formula Generator & Explainer
The first thing that impressed me about Sheeter.ai is its formula generation. This is one of the most important tools for me, and I literally can't live without it. It not only helps you with creating Microsoft Excel based spreadsheets but you can also take advantage of this tool for creating formulas for Google Sheets and Airtable.
Even if you don't know which formula to use, Sheeter.ai will find it for you based on your input data and give the correct formula automatically!
Moreover, if you are working on spreadsheets created by someone else and are unsure about the functions' exact purpose, you can use their formula explainer. This feature accurately tells you the purpose of the formulas used in the document.
2. VBA & App Script Generation
Being an IT student, I am most passionate about working with coding-related tasks, and this tool has fulfilled all my needs. With its advanced VBA and App Scripts generation feature, I can now create custom functions in my Google Sheets easier than ever.
As of now, it has helped me set up a Lemlist API-based email outreaching system directly from Google Sheets, without connecting any tools like Zapier, Pabbly, or n8n. Furthermore, this tool has helped me in creating a powerful backlink monitoring tool in Google Sheets, which I have sold more than 100+ times just using Twitter. And I believe that if I can achieve this, you can undoubtedly do it as well.
3. RegEx Generation
RegEx, or Regular Expressions, is an incredibly powerful feature offered by Sheeter.ai. RegEx is a sequence of characters that define a search pattern, mainly used for pattern matching with strings or manipulating text data. This can be quite complex, especially for beginners, but Sheeter.ai simplifies the process by generating the required RegEx formula based on your input.
For instance, if you need to extract specific data from a text string or validate data inputs, Sheeter.ai will provide you with the appropriate RegEx formula. This can save you a lot of time and effort, allowing you to focus on other important tasks.
To generate these RegEx expressions, you can simply share your sample data or code and the information that you need to be extracted from it. For example, if I need to extract the Pincode from the address shown below:
123, ABC Building,
Connaught Place,
New Delhi – 110001,
India.
Then I'll paste this text in their query input and tell them to write a RegEx code to get 110001 from it. And it will share the RegEx code that will surely work for your spreadsheet.
4. SQL Generator
If you work with databases, you'll be thrilled to know that Sheeter.ai also supports SQL formula generation. SQL (Structured Query Language) is a programming language used to communicate with and manipulate databases. With Sheeter.ai, you can generate SQL queries based on your requirements, making it easier to manage and retrieve data from your databases.
This feature can be a game-changer for users who work with large datasets and need to extract specific information quickly and efficiently. Further, this tool features an SQL explainer, which further helps you in understanding the structure of SQL by submitting the SQL query.
I think this will be the most suitable feature for a spreadsheet expert who loves working with custom codes and websites.
5. Basic Task Framework
Another amazing feature of Sheeter.ai is the Basic Task Framework, which provides step-by-step instructions for accomplishing any type of task in Microsoft Excel and Google Sheets. This function is super useful for people who may not be familiar with specific procedures or techniques in spreadsheet management.
You simply need to input your task, and Sheeter.ai will provide a non-coding-related solution that is tailored to your Excel or Google Sheets version.
💡 Author's Note:
Keep in mind that Sheeter.ai is an AI-based tool, and it works accurately around 96% of the time.
For more reliable and accurate function generation, you need to be as specific as possible when describing your requirements. The more detailed and clear your instructions are, the better the output you can expect from this tool.
Sheeter.ai – Plan & Pricing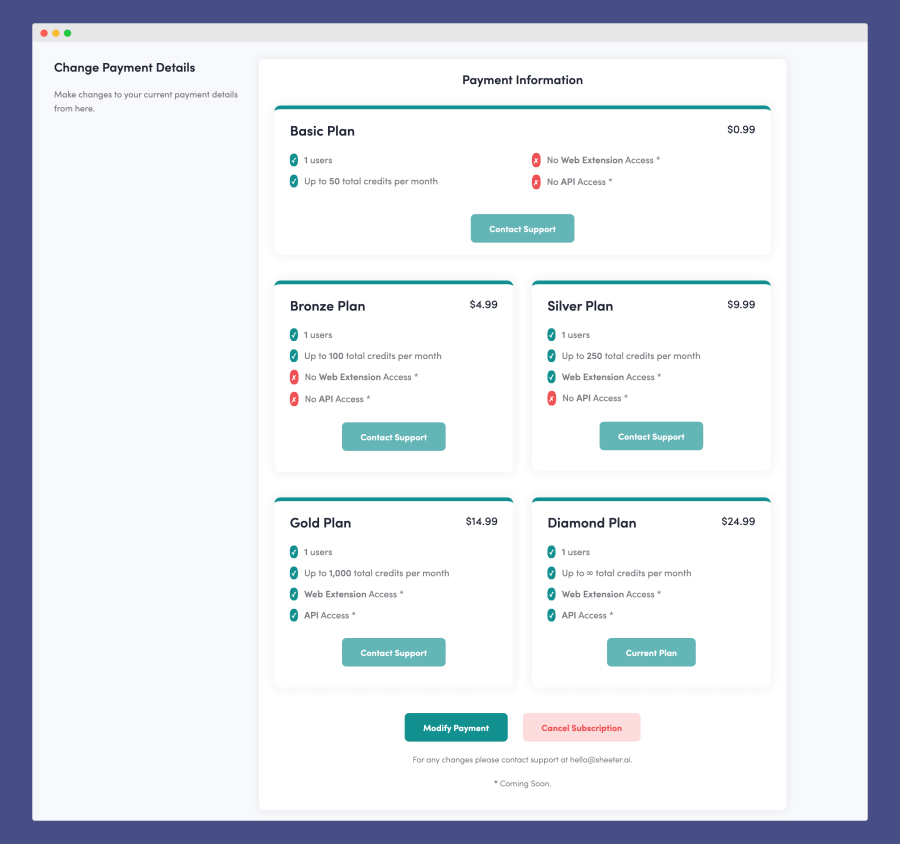 Sheeter.ai provides five different pricing plans to cater to the needs of every user. Now, users can select the plan that best fits their requirements and budget based on their needs.
Let's take a closer look at each of these plans and understand the benefits they offer.
1. Basic Plan
The Basic Plan is ideal for users who are new to Sheeter.ai and wish to explore its features at a minimal cost. For just $0.99 per month (introductory price), users can access up to 50 credits monthly, which is sufficient for small projects or personal use.
However, this plan does not provide Web Extension Access or API Access, making it best suited for those who want to experience Sheeter.ai's main features without spending too much.
2. Bronze Plan
The Bronze Plan is another great choice for users who require more features than the Basic Plan provides. At $4.99 per month, this plan offers up to 100 credits per month, making it suitable for small businesses or professionals with moderate spreadsheet needs.
Similar to the Basic Plan, the Bronze Plan does not include Web Extension Access or API Access. However, it provides a higher number of credits, making it perfect for those who need to use Sheeter.ai's features more frequently.
3. Silver Plan
For users who need more features and credits, the Silver Plan is an excellent option. Priced at just $9.99 per month, this plan provides up to 250 credits per month and includes Web Extension Access, allowing seamless integration with your browser for quick formula generation.
However, the Silver Plan does not offer API Access like the Basic and Bronze Plans – but this plan is ideal for professionals and small businesses that require more comprehensive spreadsheet support and the convenience of web extension integration.
4. Gold Plan
The Gold Plan is one of the most popular options for users seeking the most comprehensive and beneficial access to Sheeter.ai's features. Priced at just $14.99 per month, this plan offers an impressive 1,000 credits monthly with Web Extension Access, and API Access, making it the perfect solution for advanced users, professionals, and businesses with extensive spreadsheet needs.
The Gold Plan not only provides a powerful combination of features but also an ample number of credits, ensuring that users can make the most out of Sheeter.ai's capabilities and enjoy the maximum benefits. This is the most advantageous plan for those looking to fully leverage Sheeter.ai's potential.
5. Diamond Plan
For users who want unlimited access to Sheeter.ai's features, the Diamond Plan is the best choice. Priced at just $24.99 per month, this plan offers unlimited credits, Web Extension Access, and API Access, making it the most comprehensive plan available.
This plan is perfect for large businesses, power users, or professionals who need extensive spreadsheet help and wish to make the most of Sheeter.ai's advanced features.
In conclusion, Sheeter.ai presents a wide range of pricing plans to meet the diverse needs and budgets of its users. By carefully evaluating your specific requirements, you can choose the plan that provides the perfect mix of features, credits, and pricing for your unique situation.
Frequently Asked Questions (FAQs)
Still, have doubts? Here are some of the frequetly asked questions about Sheeter.ai to help you make an informed decision:
Q: How does Sheeter.ai make sure the formulas it creates are accurate?
Sheeter.ai uses advanced AI-based algorithms to write formulas based on your input data. But still, we can't say whether the formula you'll generate is accurate or not as the accuracy rate of their system was 96% during our usage.
If you're looking to get accurate results, we do recommend giving clear and detailed instructions along with a proper explanation of what you need it to do. Always remember, the more specific you're, the better the output you can expect from Sheeter.ai
Q: Can Sheeter.ai be used with both Microsoft Excel and Google Sheets?
Absolutely yes, Sheeter.ai is made to work with both Microsoft Excel and Google Sheets with all version types and in all supported languages.
The formula creation, VBA, App Script creation, and other feature works well with these platforms, letting you efficiently manage and simplify your spreadsheet tasks no matter which platform you use.
Q: Is Sheeter.ai good for users with no earlier experience in working with spreadsheets?
Definitely! Sheeter.ai is made with simplicity in mind with a user-friendly interface and easy-to-use features making it suitable for users of all skill levels.
And if you're someone who's new to spreadsheets, you can also take the advantage of Sheeter's BasicTask framework to unlock all the possibilities.
Q: How do the credit system and pricing plans work with Sheeter.ai?
Sheeter.ai has five different pricing plans, each giving a specific number of credits per month. These credits are used to access the tool's features, like formula creation, VBA scripts, RegEx creation, and more.
Based on your usage and needs, you can choose the plan that provides the perfect mix of features, credits, and pricing for your unique requirements and continue using their services.
Q: Can I use Sheeter.ai with third-party services and integrations?
Yes, Sheeter.ai supports integration with popular tools like Excel and Google Sheets for smooth operation (still in beta). It also offers API access in select plans, letting you connect and synchronize data across multiple applications using third-party services like Zapier, Pabbly, and n8n.
This makes it even more powerful and flexible for managing your spreadsheet tasks across different platforms and tools.
Wrapping Up!
Sheeter.ai is a revolutionary tool for professionals working with MS Excel and Google Sheets. This tool can help you transform the way you manage and write formulas in your spreadsheets and unlock all the possibilities for you. And with its impressive features like formula generator, VBA & App Script generator, RegEx generation, and more, Sheeter.ai will surely become an invaluable asset for your business.
And no matter if you're a newbie or a pro in spreadsheet management, Sheeter.ai can make your work easier by harnessing the power of AI, and it not only saves your precious time but also ensures the precision and consistency of your spreadsheets.
So, why wait any longer, mate? Give Sheeter.ai a shot and bring a revolution in the way you work with Excel and Google Sheets.