Are you trying to find the best way to streamline your workflow by finding the Best Notion Project Templates? It is a hassle to do everything we need to do nowadays, and over it, we must keep track of many things. I can't even keep track of drinking water without the help of an app, so how am I supposed to take care of everything in my head every day? Well, Notion helps you with that.
Notion can help you manage more significant projects and your everyday to-do list. It can be everything you want and is so easy to use. If you can find a suitable template, Notion will be like your personal assistant who does everything but fetch coffee.
Now you might be a bit overwhelmed by seeing all the options Notion has for you, as there are many, but don't worry, as I will be providing you with a list of the best of the best with varying features to help you find your perfect template.
What is Notion and Why It's Important
If you're anything like me, you're always looking for ways to streamline your workflow and increase productivity. One tool that has really made a difference in my daily work routine is Notion. Notion is a powerful, flexible, all-in-one workspace that allows you to jot down notes, create databases, plan projects, and much more. So why is this tool so important? Let's take a closer look.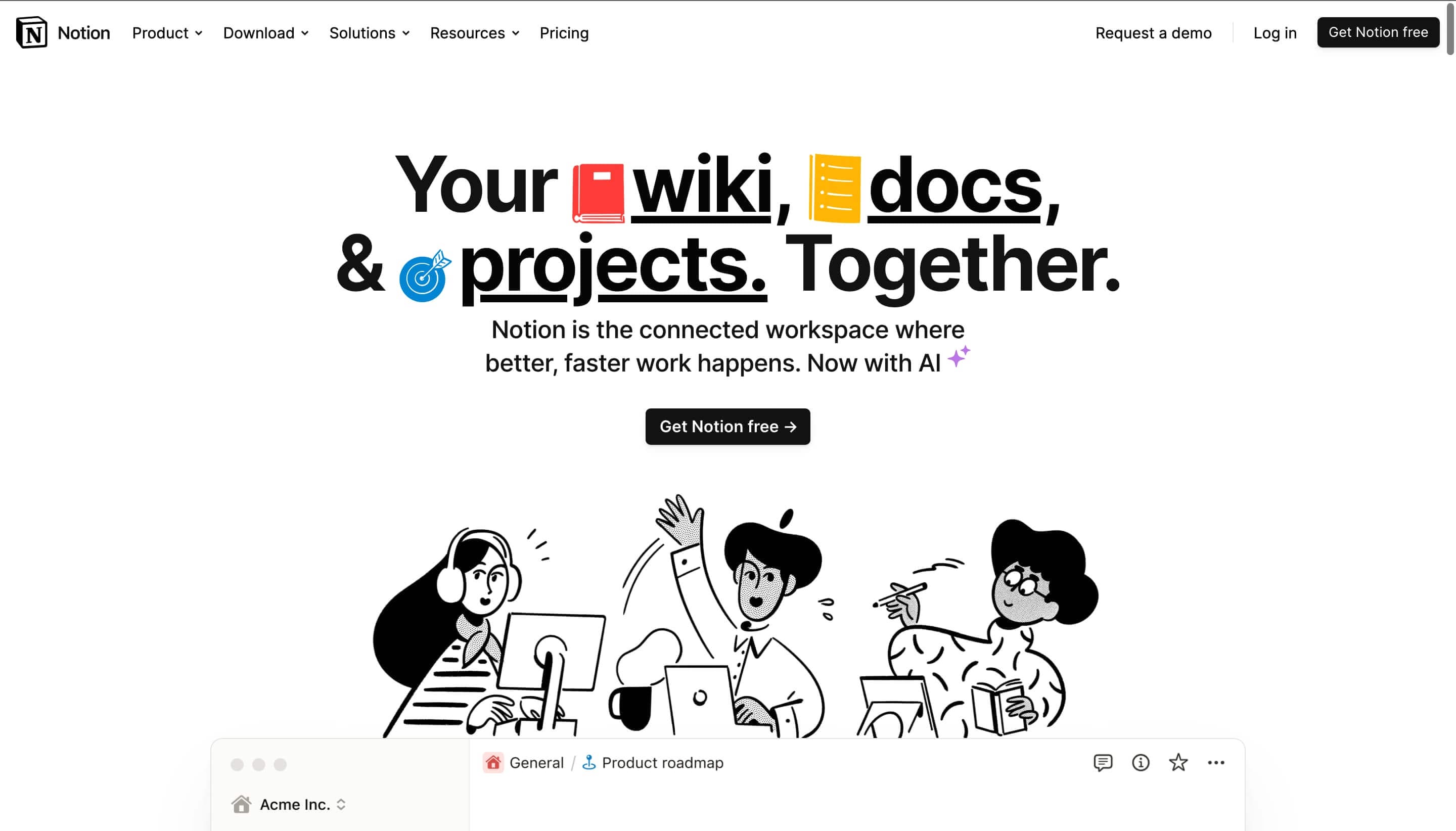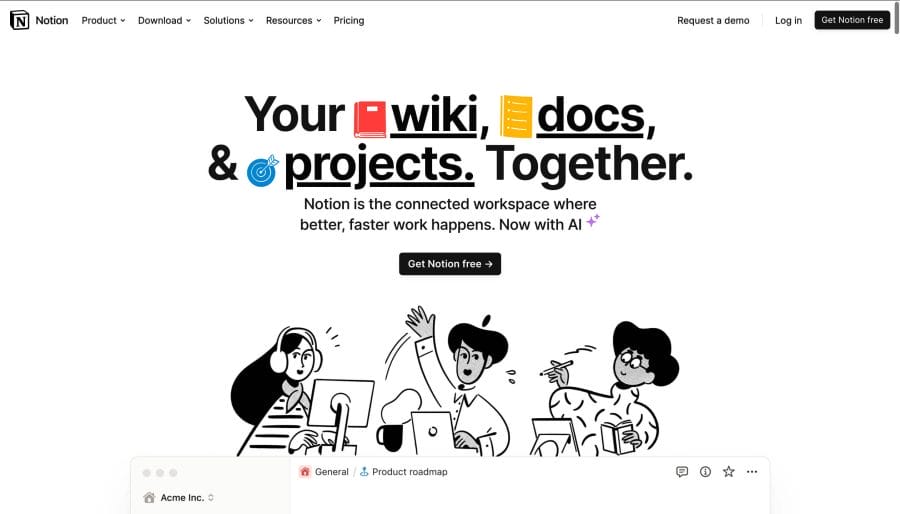 First, unlike many other productivity tools, Notion is an all-in-one solution that allows for easy collaboration with team members. No more jumping from one app to another just to share or collaborate on a project. Notion simplifies the process by keeping everything in one place, making it easier to stay organized and focused.
One significant advantage of using Notion is its customizability. It's possible to tailor your workspace to your exact needs, thanks to its vast variety of tools and features. Whether you need a simple to-do list or a sprawling project map, Notion has got you covered.
Also, Notion's support for templates makes it even more appealing for managing various tasks and projects. With templates, you can easily set up a new project without starting from scratch, saving both time and energy. Consequently, you can maintain consistency in your projects and develop a more efficient workflow.
Here are some noteworthy features of Notion that really set it apart:
Kanban boards, calendars, tables, and lists – all within one application
Collaborative editing in real-time
Nested pages for organizing your content hierarchy
Customizable page templates
Integration with other apps and services, such as Google Drive, Slack, and more
Now imagine the benefits you'll gain when leveraging the power of Notion with these Notion project management templates we're going to share below.
Best Notion Project Templates
It can be a daunting task to pick anything now with so many options floating around. As the saying goes, more options, more problems. There are so many templates out there on Notion, and I know I have said that before but there are.
You can also create your page by adding whatever blocks you want, but why do so much work when you can pick a template that suits you best and duplicate it? Just trust the list and look at the features detailed under them to see if it suits you or not. We researched and looked into many of them to find you your perfect options.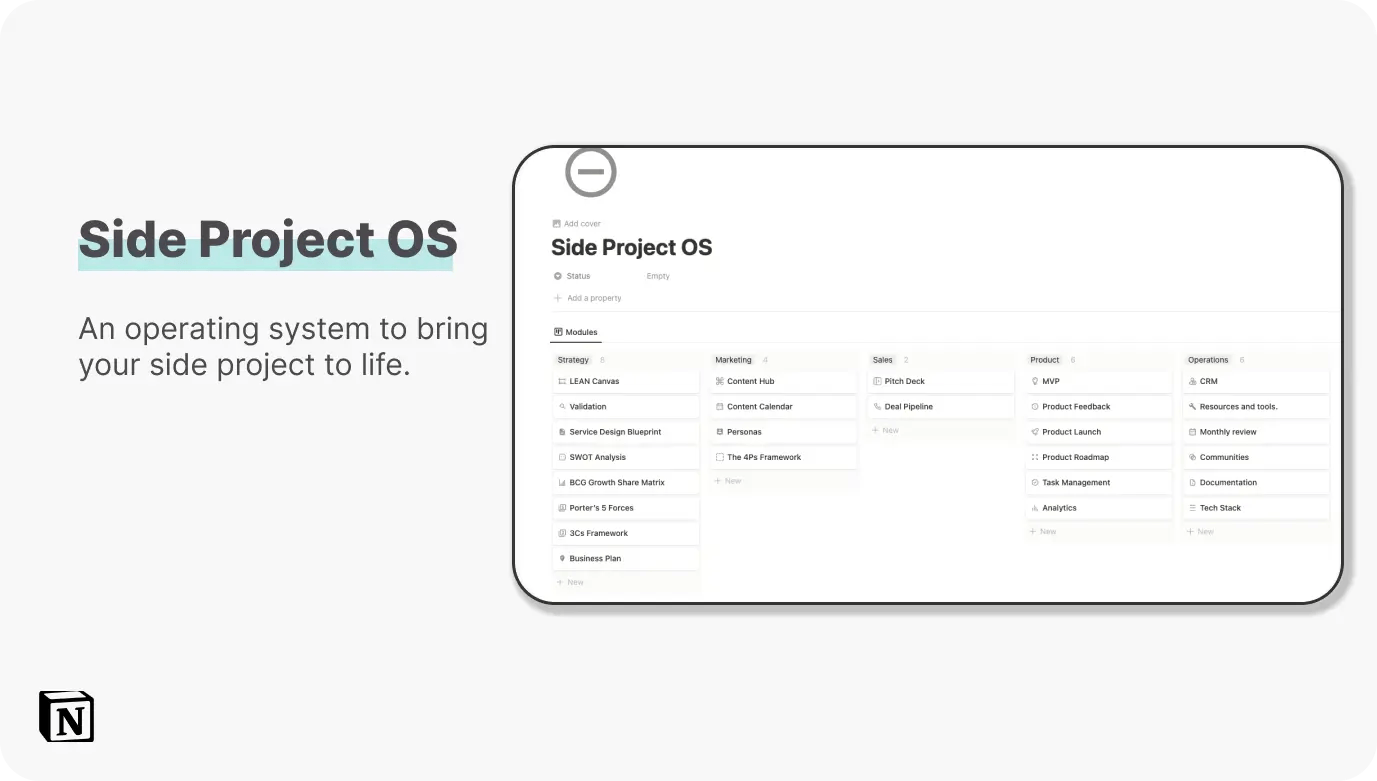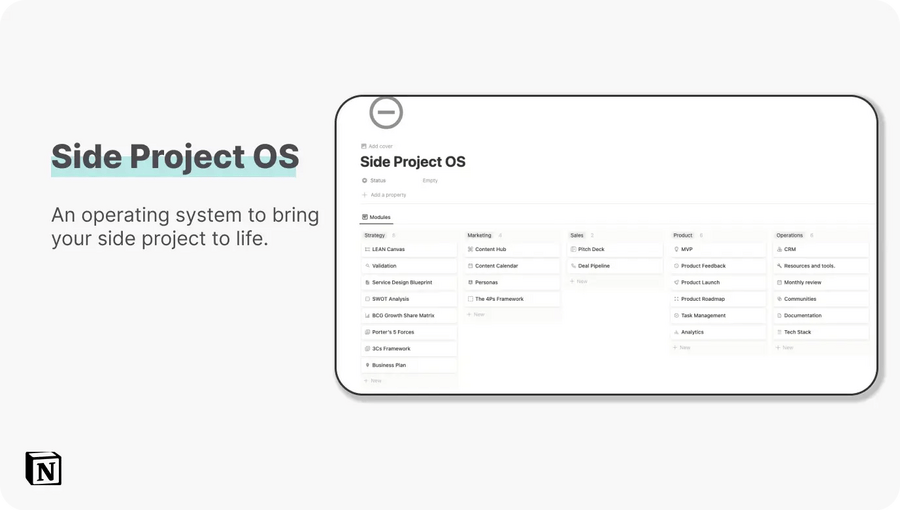 One of the best templates to have is Side Project OS, which contains many modules to help you out, whether you are a freelance business or a content creator like me. There are many modules to help you with your day-to-day functions as well as finances and strategies.
It provides you with 30 modules to manage your side projects without any kink. You can control and track your activities and plan any projects you are considering starting next. It's very easy to start a business of your own now, and with Side Project OS, It is even easier to manage it. It will help you perform your tasks in a more efficient manner and stop you from wasting any time. It provides you with eight strategy modules so you can strategize your problems and find their solutions just like that.
I absolutely love that I can track my subscriptions, finances, and so much more, and if you are running a website or a small business, you will also be able to track feature requests, feedback, and monthly reviews, which are as important as they are taxing.
There are so many other unique features that you will find oh-so-helpful on a day-to-day basis and in your work as a whole. Side Project OS is one of the best Notion templates out there for you to duplicate.
Features of Side Project OS
Helps save time
Unique modules to manage your projects
Dedicated modules to help you be more efficient
Free updates included
Guides and Videos to help you out at every step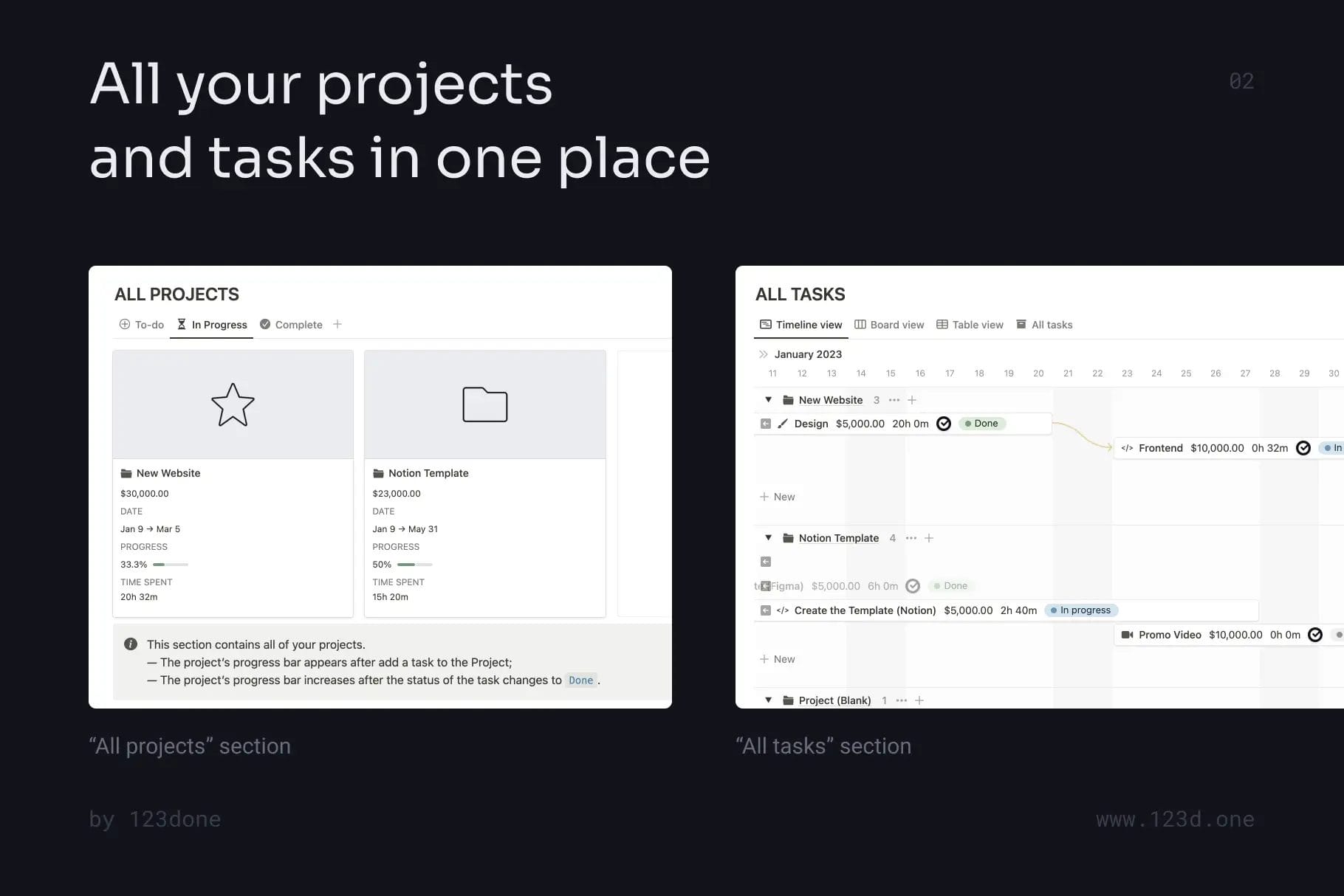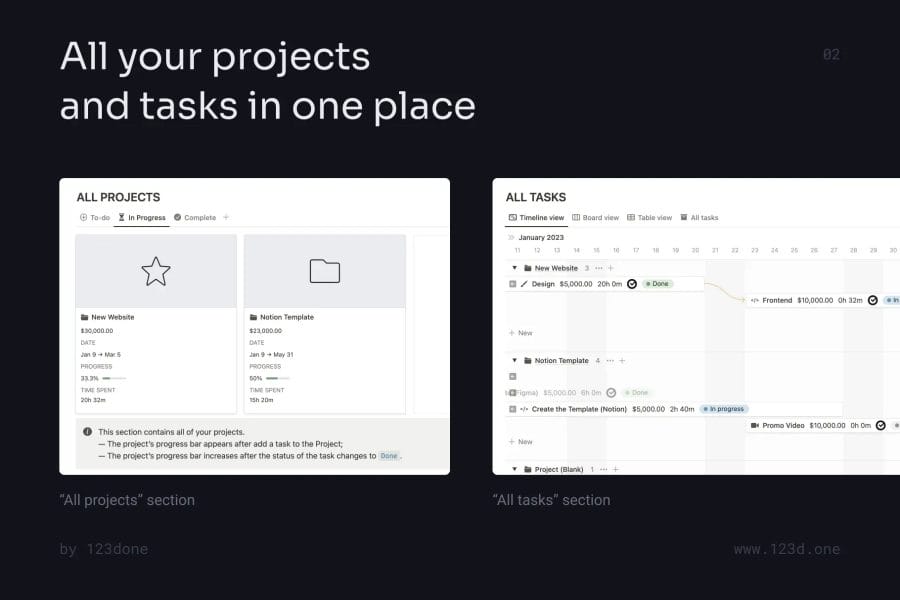 Universal project management is just what the name suggests; no matter what your project is, it will aid you in managing it efficiently. I am in awe of how easy it is to streamline your workflow with efficient databases and perfectly curated modules it has for you.
If you are a budding entrepreneur, you can easily manage your big or small projects, your day-to-day tasks, and your clients in just one place without any hassle or confusion. You can also track the time you are giving to each project and task.
There are so many unique features to help you remain stress-free in your work management, like the "all projects" and "all tasks" sections where you can go and see if they are past, present, or future tasks and also their priority with a star-based system.
You can also add progress bars and track the time spent on each task to get you to work more efficiently. I just adore how many features you get along with a to-do list, planner, and so much more in just 29$ for a single user, and the extended version for unlimited users is just 87$. Anyone with basic knowledge of Notion can get a great benefit from the Universal Project Management template.
Features of Universal Project Management Template
Efficient databases for projects, tasks, and clients
Also works as a to-do list
Can see the tasks and projects by their priority
Can track the progress and time of each task
Reasonable prices with a user-friendly interface.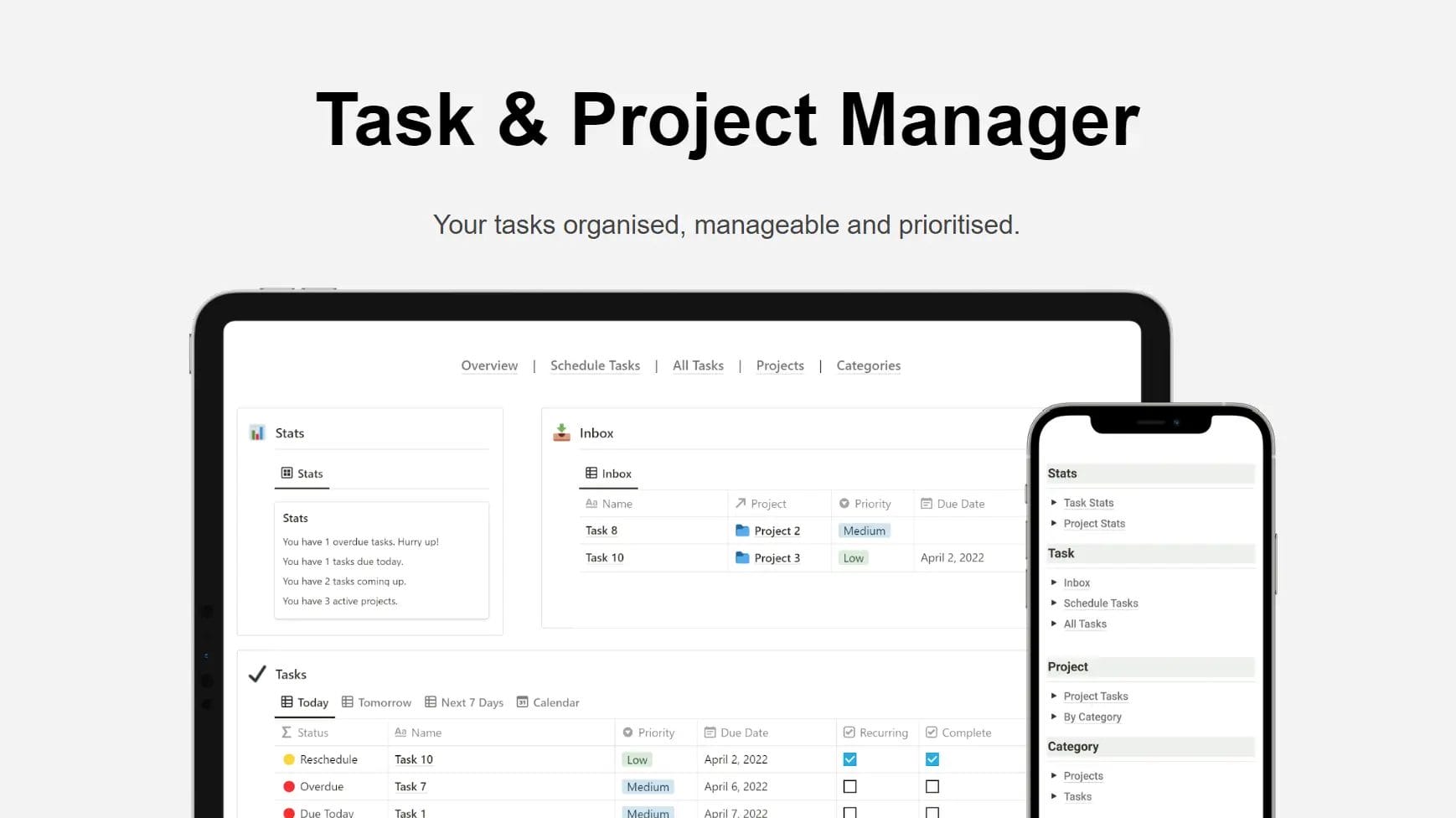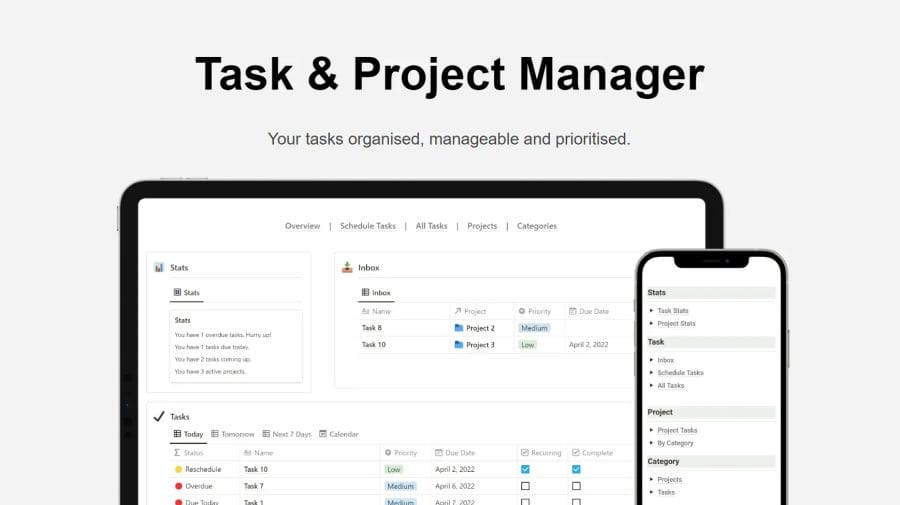 This template is perfect for almost everyone, be it an individual running their freelance work or a small business, as it is customizable and is a perfect template for both, individuals and teams. It is one of the best organization templates out there because of the number of unique features it has.
There are 30+ databases to help you customize your dashboard in whatever way you need, and also, there are page templates for everything. There's a series of personal and team dashboards, and the personal dashboard keeps your individual privacy, which is a great feature to have for a team.
It is the most organized project management template ever, in my opinion, and it has so many other features and all for just 49$. It has your tasks, projects, topics, and everything managed with time frames and progress bars.
It also has all the features you need that are common in most of these templates, and as it is all customizable, you won't face any issues. There are also detailed guidelines and instructions to help you out every moment.
Features of Task and Project Management System;
Unique database and page templates
Most organized page management system
Good for individuals and teams
Reasonable pricing
Helpful guidelines and instructions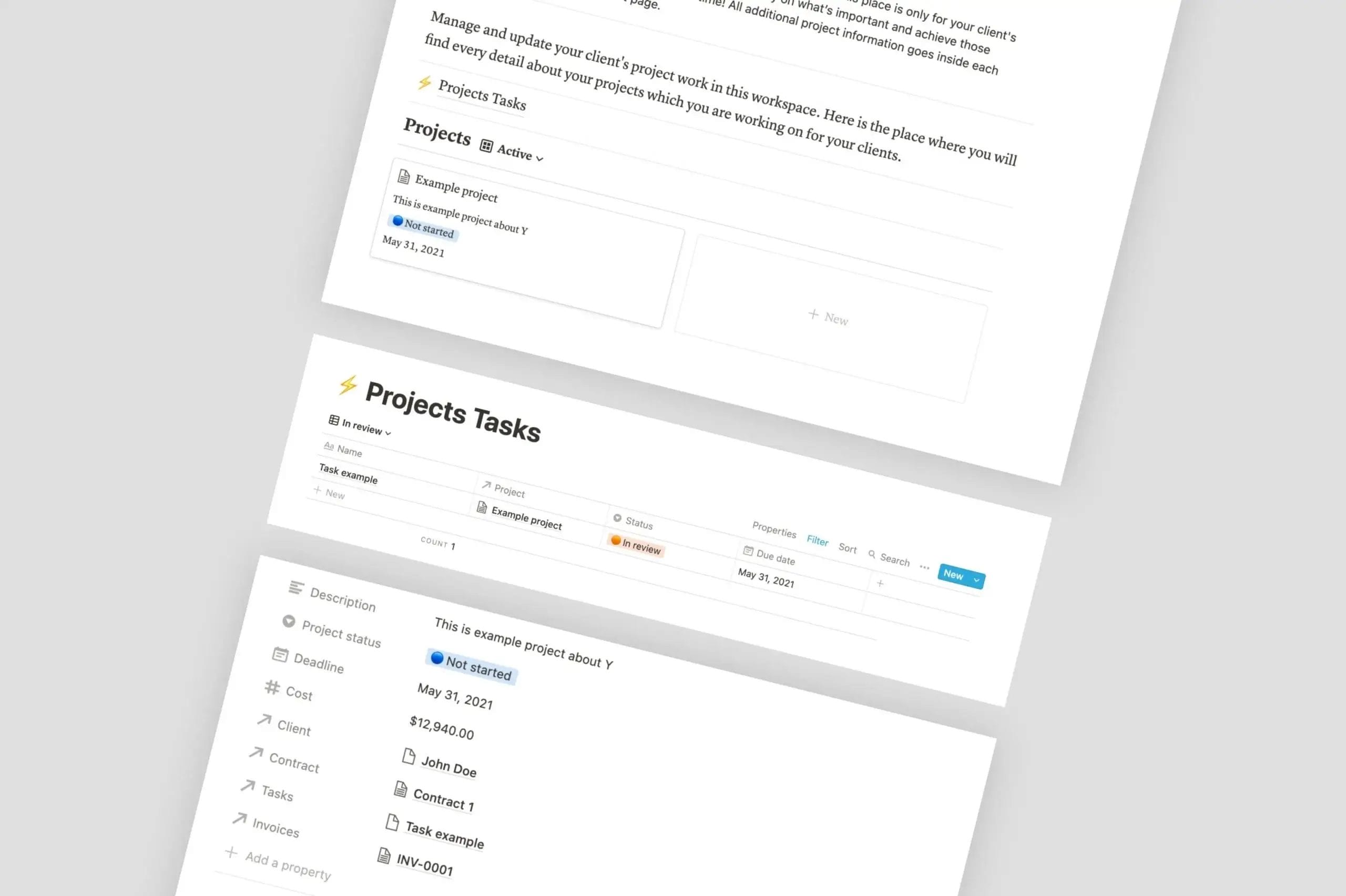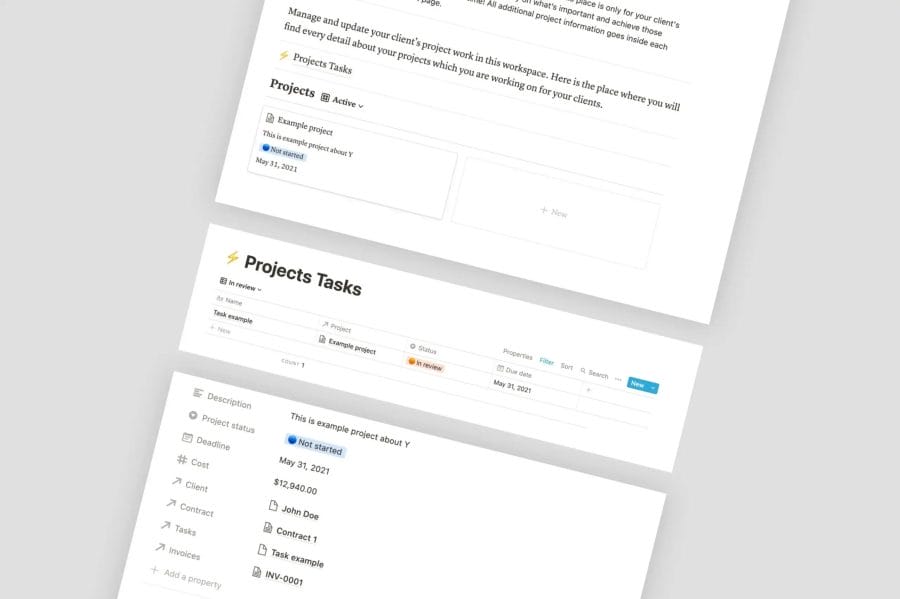 If you are a freelance business, then there is a specifically curated package at Notion for you, the Notion Freelancer Pack. When you purchase that pack, it comes with a few Notion templates, one of which is Manage your Freelance Business with Notion.
It is a great organizer and is famed for its abilities. A lot of people will recommend you this because, one, it comes free with the pack, so there are no extra charges, and second, it has so many cool features.
There's a project task list through which you will easily be able to keep all your ducks in a row. There are examples for project assets and scope of work to guide you better and also for project briefs and hand-offs.
It is a very user-friendly template with so many unique features to help you out, and well, if you already have the Freelancer Pack, then you must try it out. It might just turn out to be a great boon in your journey of freelance business.
Features of Manage Your Freelance Business with Notion Template;
Part of the Notion Freelance Pack
Many features to help you out
Free Template
Highly recommended
User friendly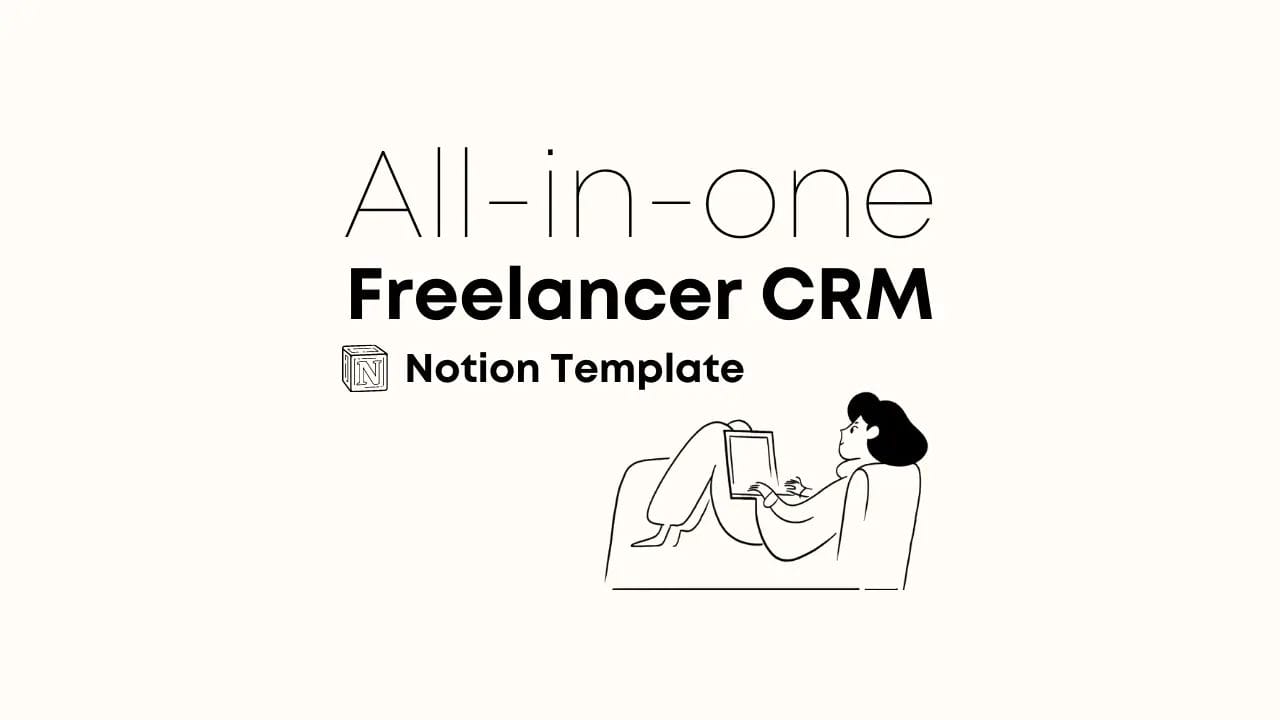 If you are looking for a project management template that will help you with your work as well as with managing your clients, your search is over. All-In-One Freelancer CRM will help you out a lot in managing your workflow efficiently while keeping up with your clients.
There are so many features, and to not confuse you, they come with incredibly helpful instructions. As a freelancer, this will be your perfect workspace as it contains 7+ databases to create exactly what you need.
You can do so much with Notion that it takes over the work of a lot of different services. You won't need to spend a lot to be able to keep up with your growing venture, and this template will do that without needing too much money.
You can keep all your client information organized as well as do a lot with this template without having to spend hours customizing it perfectly. It even has a second brain to take notes, and all for just the measly price of 12$.
Features of All-in-One Freelancer CRM;
Great for client management
7+ databases
Page templates within
Reasonable price
Helpful instructions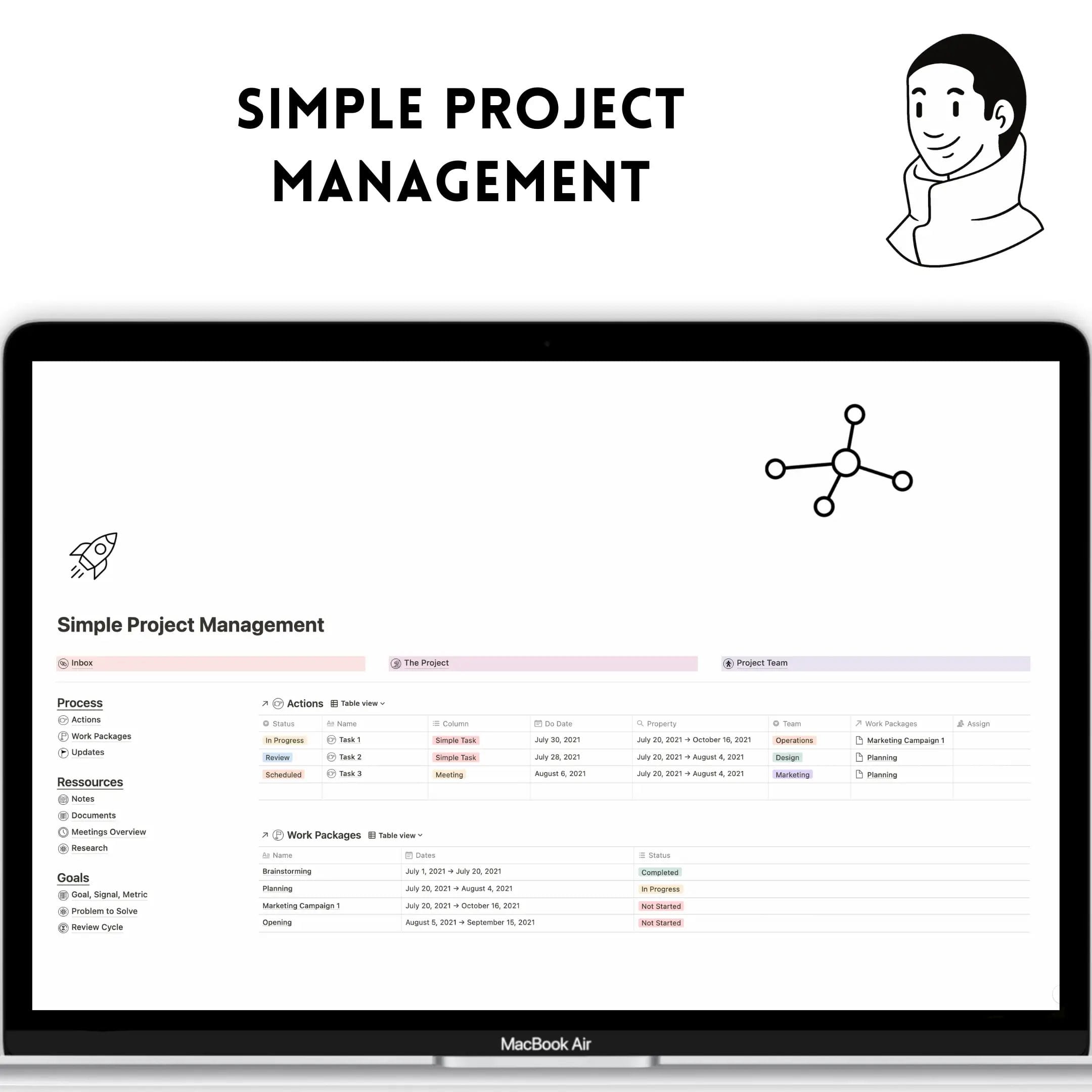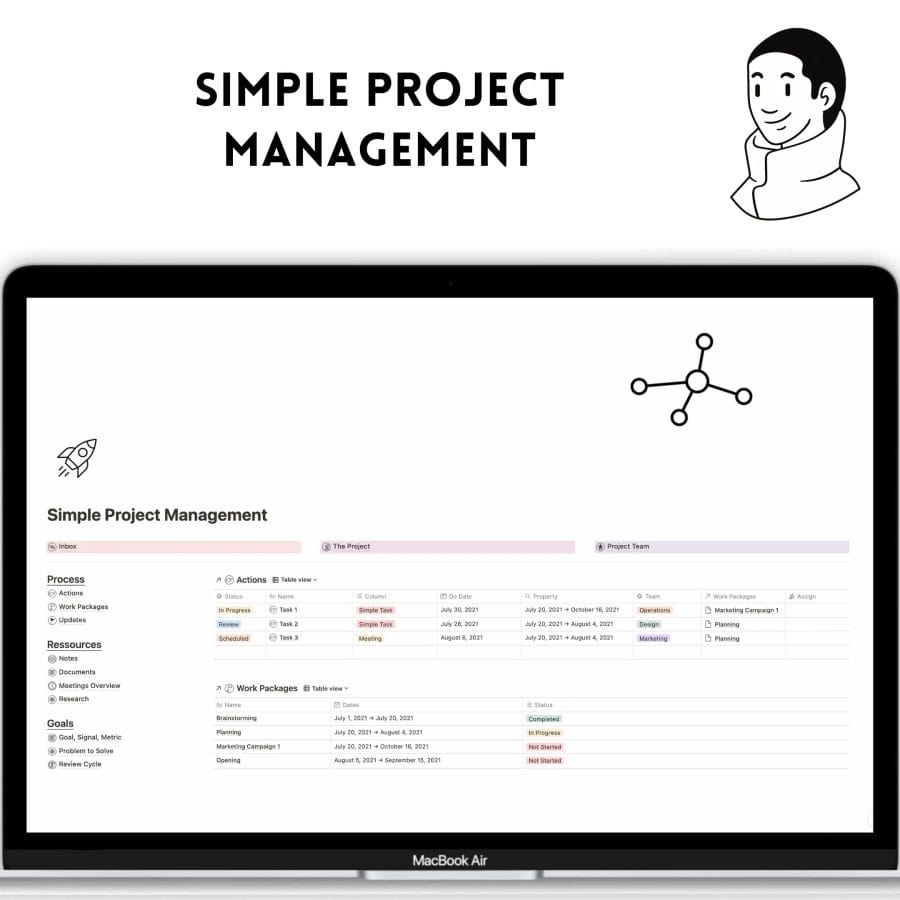 If you don't want your dashboard to be a chaotic mess and you like a minimalistic approach, then the Simple Project Manager is a perfect template for you. You will be able to organize your projects and tasks deftly and so much more.
You can prioritize your tasks and share them with your teammates while keeping up with the due date. The sections process, resources, and goals are an especially appealing feature where you can proficiently record everything useful you require for your work.
The menu bar is synced, which is an important feature in a project management template. The meetings dashboard is very efficient, and honestly, it is a great deal at a great price. I always get confused when anything is too frilly, so I loved how simple it was.
There are many features just like the ones I have mentioned before, and if you are a person who needs a simple yet effective project manager, then you should really look into it.
Features of Simple Project Manager;
Simple and organized design
A clutter-free dashboard
Sections for process, resources, and goals
Reasonable price with a User-friendly interface.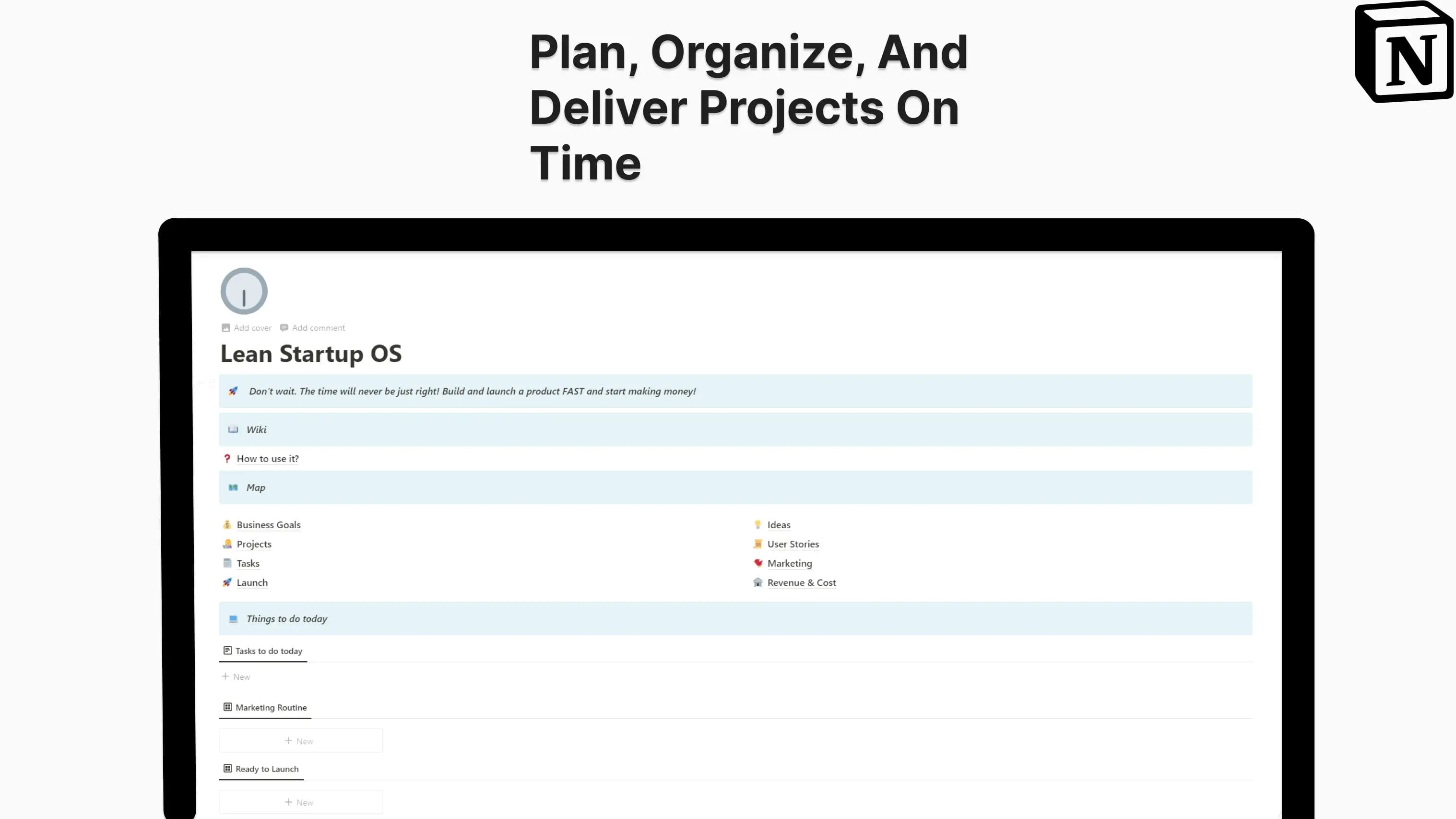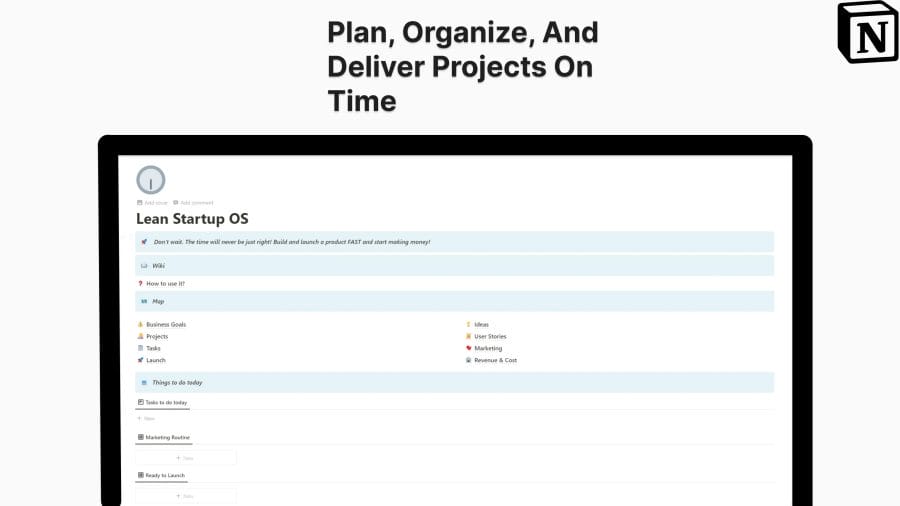 If you are just starting out as an entrepreneur, Lean Startup OS is one of the best templates out on Notion for you. You want your projects to be planned and organized efficiently and on time, especially if you are a new business, and well, this template will help you out with all its amazing features.
If you are planning on launching new products every now and then, Lean Startup OS will help you validate your ideas, plan your marketing, track revenue and cost, and so much more. The user-centric approach aids you quite well. Features like smart timeboxing are really important for a startup venture. It is a little bit expensive at the price of 50$ but considering all the features, it is definitely worth it. I also love how user-friendly it is.
It is also highly customizable, so you can modify it to match your needs. The creator has also added a Wiki section to help you get started.
Features of Lean Startup OS;
Helps you plan and organize your tasks
User-centric approach
Compatible pricing
Customizable with a User-friendly design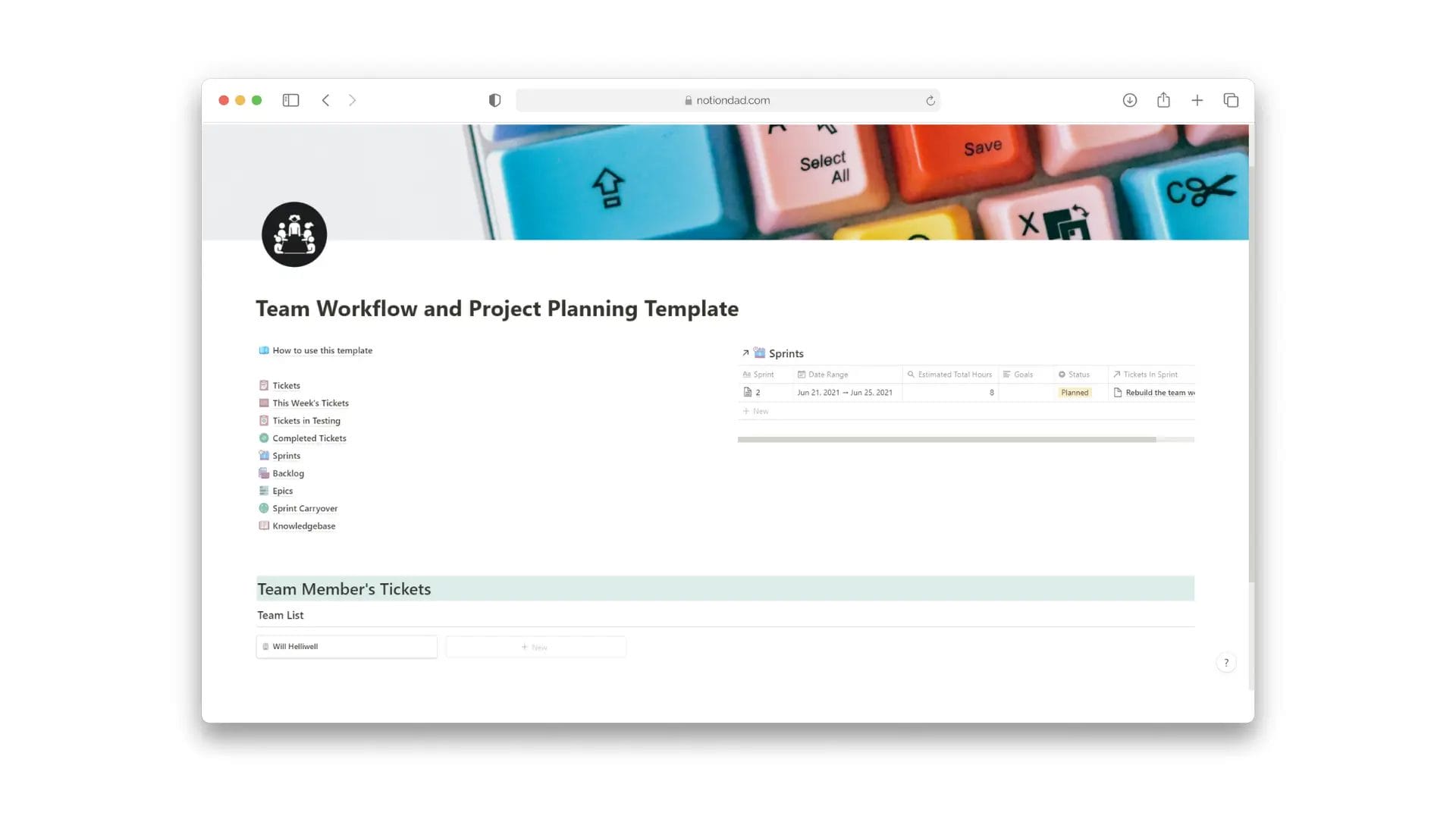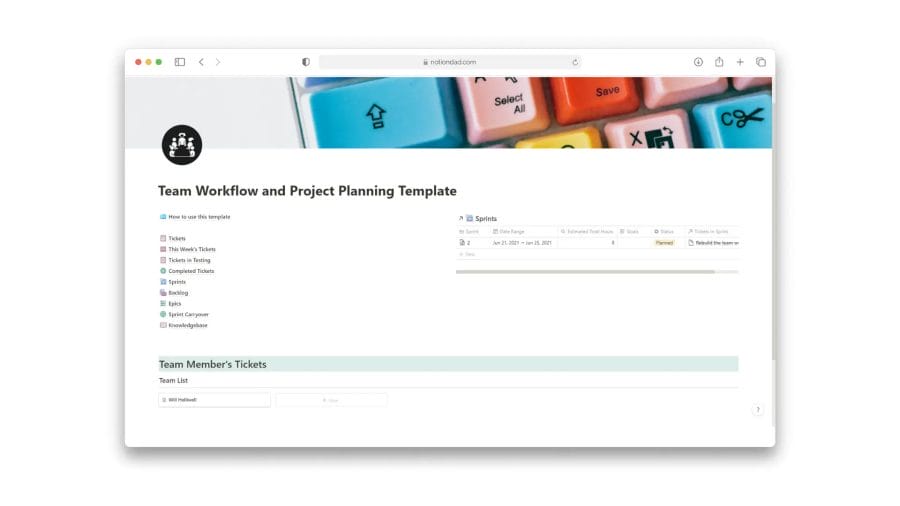 If you are a freelance business in need of a template to work for your team, then Notion has a pretty good one for you. There are so many unique features and databases, like the master's ticket database, that I am sure your team will love.
There are different pages to properly sort out your tickets, whether they have been completed or are on this week's agenda. You can also track your progress with the use of tickets, and with the sprints page, you can plan how many hours you will be working on those tickets to create a healthy work-life balance.
I absolutely love how the backlog page and the epics page are so helpful in managing your tasks and projects. There is also a knowledge base available to help you out at every step of the way.
Features of Notion Project Management Template for Teams;
Curated for teams
Reasonable price
Very efficient
Many incredible pages
User-friendly design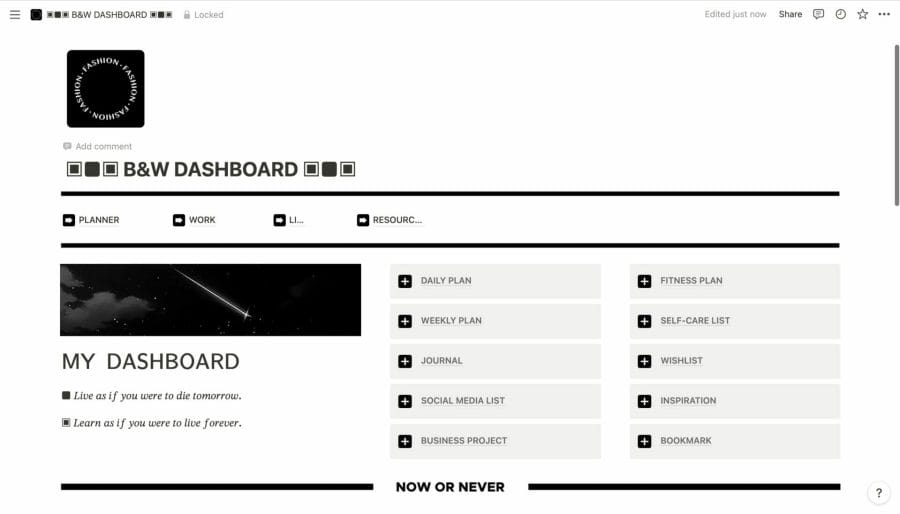 This one is a free project management template for Notion with an aesthetically pleasing interface. The B&W (Black & White) dashboard contains a project management system in which you'll see various mini dashboards for keeping your projects and work impeccably organized.
It also has numerous features to aid in your day-to-day life to make your life a tiny bit easier. I love to read, but finding time for it is quite hard, but with this dashboard, not only will your projects be better organized, but it will organize your whole life.
You can prioritize your projects and tasks, and the mini-dashboards for your projects are embedded with a lot of cool features, like a curated library. It will honestly suit you no matter what your needs are and be the perfect little secretary to keep you organized.
Features of B&W Dashboard;
Aesthetically pleasing
User-Friendly
Organizing day-to-day tasks
Mini-dashboards for projects
How to Customize Your Templates?
Now that we have learned about so many templates, you saw how many times I mentioned that the templates are customizable. We all require our dashboard to be perfect, and as helpful as the templates are, you still need to make a few edits for them to work for you.
Well, not to fret; they are quite easy to customize, as is the base of Notion. It might seem a bit tough, but in reality, it is a piece of cake. You can create pages or edit the existing ones by adding blocks.
There are numerous kinds of blocks that can be placed, replaced, or removed according to your needs. They can also be customized, and you can add emojis or pictures, documents or files, honestly, whatever you require by clicking on the six dots.
It is all very easy once you get the hang of it, and if it still seems daunting, then there are instructions in the templates, and many creators on youtube have "how to" videos on it which are wonderful.
Conclusion
I have listed a lot of good templates which I personally use and thought about using for streamlining my workflow with all their features and descriptions to make your work a tiny bit easier. You just need to duplicate the templates to save yourself a couple of hours, and with this list, you won't have to waste that precious time looking for a perfect template.
It is very important to make sure that there isn't any hindrance in the completion of your day-to-day tasks and projects, especially for a starting entrepreneur, and these templates will help you manage them as well as your time more efficiently.
Also, these templates will help you create a personal space with many features to be your best-organized self. Whichever template you end up picking, I hope it is everything you need.